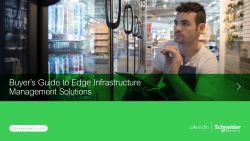 In response to marketplace edge requirements, vendors are developing robust edge infrastructure management solutions, making it possible for operators to cost-effectively manage new distributed IT environments. However, not all solutions are alike, and evaluating the best-fit for your business can be challenging.
In this whitepaper, we lay out the seven key steps buyers should follow when selecting an edge infrastructure management solutions using learnings from multiple real-world deployments, as well as exploring some of the key questions posed by buyers in today's market, including:
How do I develop a means for monitoring remote edge locations without investing in local IT staff?
In what ways does the edge solution software anticipate equipment failure before it happens?
What are the best ways for instituting procedures that speed-up mean time to repair if a failure does occur?
Which tools should I invest in that can track how much capacity is available per remote location?
What are the best ways to enhance the security of rooms and closets hosting critical edge compute assets?
Which solutions can offer me one consolidated view of equipment health across multiple edge sites?
How can I determine whether any of my existing, central on-premise monitoring solutions can also monitor remote critical edge installations?
Can I use smart phones and other mobile devices to monitor and enhance my visibility to my edge infrastructure?