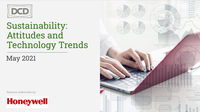 To support the industry in making more informed decisions around this hugely important area, we asked our global community for their thoughts on the key aspects of sustainability planning and delivery.
The events of 2020/21 have further cast a spotlight on green issues and how we engage with our wider world. This survey shows the areas that are important and those that might need some extra attention.
Questions analysed include, which major stakeholders can have the greatest impact on data center efficiency and sustainability, the importance of efficient and sustainable best practices in terms of attracting clients and winning business, what is accelerating the industry's journey towards Net-Zero most effectively, a look at the importance of creating a formal sustainability road map and many more.