On November 11, Huawei introduced two new additions to its Smart Modular Data Center and SmartLi uninterruptible power supply (UPS) series – FusionModule2000 6.0, a modular small/medium-sized data center solution, and UPS2000-H, a small-footprint power supply solution running on SmartLi Mini, at its Sanyapo Campus in China.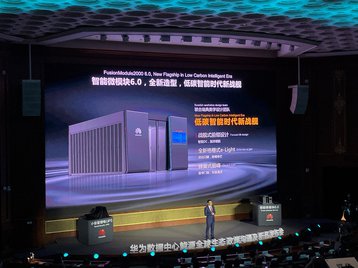 These new solutions are designed to enable channel partners to gain a competitive edge in the marketplace while driving forward green digitalization for businesses in a cost-effective manner.
"As an innovation-driven data center facility solution provider, we make great efforts to build and upgrade every product series to ensure customers competitiveness," said Mr. Fei Zhenfu, president of Huawei Data Center Facility Domain.
"We aim to lead the market in the long run by securing competitive advantages of products comprehensively, driving product differentiation, and broadening the product portfolio."
An upgraded smart modular data center solution to maximize energy efficiency at the Edge
With the introduction of FusionModule2000 6.0, Huawei has expanded its Smart Modular DC solution portfolio for Edge computing applications.
Featuring a brand-new design, the small/medium-sized modular data center solution is built to meet the demands of education, government, and retail customers who are looking for smaller and greener modular data centers.
Key features of the product include:
Green: The average annual power usage effectiveness (PUE) of FusionModule2000 6.0 can be as low as 1.111.
In tests conducted by China's Cloud Computing & Big Data Research Institute and local IT group The Green Grid China (TGGC) in Beijing, a data center with 100kW input power can reduce PUE by 30 percent using FusionModule2000 6.0 compared to the competitor's solution, thus saving electricity consumption by around $27,000 each year.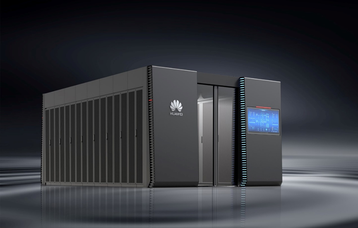 Dedicated tools and cutting-edge technologies, such as the refrigerant pump, the adaptive compressor, and iCooling, are leveraged to maximize cooling efficiency and optimize the energy consumption of data centers.
Simplified: FusionModule2000 6.0 eliminates most of the rigid environmental requirements with salient features such as a small footprint, low height, and low weight.
A fully integrated UPS and SmartLi-inside design reduces footprint by 60 percent and weight by 30 percent compared with UPS products powered by lead-acid batteries.
The modular structure and one-click commissioning shorten the deployment period from 30 days to 7 days. It allows for simplified operations and maintenance (O&M) through mobile intelligent management.
Reliable: From reliable hardware architecture to software, each component of FusionModule2000 6.0 is designed with safety in mind. Reliable equipment promises zero power faults, zero battery risk, and zero cooling attenuation.
The continuous cooling architecture ensures uninterrupted service. The smart modular data center solution has already received cybersecurity certifications from China Cyber security certification and International Common Criteria certification.
Small SmartLi UPS: Save space by 65 percent
To overcome challenges in small UPS devices, such as difficult management and low efficiency, Huawei launched UPS2000-H and SmartLi Mini, a simplified, reliable, green power supply solution integrated with SmartLi Mini, in the market.
Simplified: UPS2000-H comes with simplified deployment and O&M. It can be installed in both tower and rack configurations to power a variety of applications.
It starts up just with a click and comes online within three minutes automatically, ensuring a simplified, fast and worry-free deployment. The device can be managed remotely in real time with the on-cloud management system, further reducing O&M costs.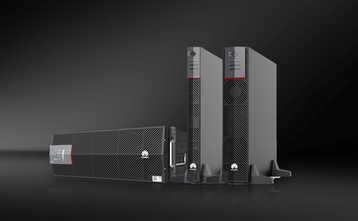 Reliable: UPS2000-H features cutting-edge design and superior reliability. With the shield-like triangle shape, its symmetrical design has received the Red Dot design award, one of the world's most prestigious design awards.
Its availability can reach up to 99.999 percent due to the copper bar connection. Laser welding and 6 kV reinforced insulation prolong the service life of SmartLi Mini to up to 10 years. SmartLi Mini uses a pack-level fire extinguisher to prevent open flames from spreading, ensuring the superior reliability of UPS2000-H.
Green: UPS2000-H delivers industry-leading efficiency of up to 96 percent, which is two percent higher than competitors' products. The improvement in efficiency ensures significant cost savings.
UPS-2000H features high density with 5U at 6KW and 40-min backup time. Compared to the industry standard of "14U" rack height, the small SmartLi UPS saves cabinet space by 65 percent and enables 9U space for IT equipment to be deployed in a single cabinet.
Looking ahead, Huawei will continue to innovate to provide customers with simple, green, smart, and reliable next-generation data centers.
More from Huawei
Huawei Data Center Facility has revealed new commitments to its partners, alongside two new product innovations at its latest Global Ecosystem Policy and product launch event

Solid state drives offer more than just the fastest, most energy efficient, and most reliable form of storage

A next-gen data center needs a next-gen power supply