Colocation providers are facing a period of unprecedented growth, but alongside that opportunity also comes transformation and disruption. New business models and technologies are required to meet that change. The industry practice of every new facility being a unique 'snowflake' design seems increasingly inefficient in the face of the demand for consistent, scalable capacity.
According to a recent study conducted by 451 Research and Vertiv, while enterprises are on average retaining as much as 40 percent of their workloads in-house, most respondents planned to increase their use of private and public cloud over the next two years.
This continued pressure to deliver more cloud services but in a 'hybrid-native' environment consisting of both public and private will inevitably lead enterprises and the service providers supporting them to seek out solutions that offer consistency, but at a speed and scale impossible through traditional design and construction practice.
Public cloud: Obstacle and opportunity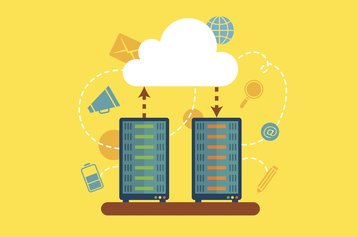 But while colocation providers are facing competition from public cloud operators, those same cloud providers are increasingly eschewing self-builds for wholesale space in colocation; a source of disruption is also driving growth in colocation.
According to 451 research, cloud providers outside of the top three (Amazon, Microsoft and Google) have a strong tendency to lease nearly all their data center space. "Even the top three providers, which have built very large data center campuses, tend to lease large amounts of data center space from specialized providers, and this tendency seems to have increased in recent years due to strong cloud take-up by enterprises and the need for cloud providers to add global infrastructure quickly," the report concluded.
Look out for IoT, edge and 5G
However, cloud is obviously not the only source of disruption colocation providers are facing. The move towards centralization of IT, from enterprise on-premises data centers driven by the rapid growth in public cloud and hybrid strategies, is likely to be met by an opposing force of decentralization driven by edge compute demand. Colos will have an increasingly vital role in hosting those edge workloads.
According to the study, a lot of that new edge compute demand - and demand for standardized micro-data centers - will be generated by workloads associated with the Internet of Things (IoT). "The IoT is no longer a trend that can be ignored by any provider of data center capacity services. Nearly all - a surprising 98 percent - of our survey respondents have IoT projects either deployed or in the pre-deployment planning stages," the report states.
The emergence of new edge compute and right-sized data centers will also be driven and enabled by 5G.
New markets require new technologies
Given the impact of hybrid cloud, public cloud, IoT and edge compute, it's clear that colocation providers will need to innovate to keep pace with this shifting landscape. For example, new companies are emerging to meet colocation edge demand, and traditional colos will need to respond. Responding to these changes effectively requires colocation providers to demonstrate a range of qualities:
Agility - The ability to build out new capacity in timely manner and in new locations is paramount to compete effectively.
Efficiency - Competing with and building capacity for cloud providers means matching the highly efficient practices that these operators have established in their own hyperscale sites.
Performance - Quality of service is paramount in an increasingly competitive environment, which means that new capacity not only needs to be built out quickly and efficiently, but also with high levels of resiliency and operational effectiveness.
Against this competitive backdrop, proactive colocation providers are investigating and adopting a variety of innovative business models and technologies which may have previously been perceived as unconventional or nascent.
Time get prefabricated and modular
One of those relatively overlooked, and perhaps undervalued, technologies is so-called Prefabricated modular (PFM) data centers. PFM is a way to build and deploy new whitespace, power, or cooling infrastructure in a more consistent and scalable way. The units of capacity are manufactured off-site to create efficient, agile and sustainable infrastructure.
PFM has been around in the data center sector for more than a decade but it is becoming an increasingly important option for data center operators to meet their customer needs while maintaining excellence in operation and availability. 451 Research states that the market for PFM data centers is set to expand at a five-year compound annual growth rate (CAGR) of 14.4 percent through 2021, when it will have reached $4.4bn.
"PFM methodology is becoming the preferred way to expand and build new data center capacity, turnkey or critical subsystems. Underpinned by industrial processes, it has distinct advantages in terms of quality control, installation speed and build consistency," Daniel Bizo, principal analyst 451 Research, said.
PFM's benefits
Speed - PFM, under the right conditions, can be deployed much faster than traditional approaches. The modular aspect of PFMs helps businesses match the supply of needed capacity to the business demand and the PFM build process allows for system-level configuration and testing prior to on-site installation, which streamlines commissioning and minimizes the potential for issues during start-up.
Scalability - Most importantly for colocation providers trying to meet demand, PFMs are inherently scalable, allowing for planned expansion with staged capital outlays that maximize capex and lower total cost of ownership. In addition, as the market and business strategies change, expected new capacity can be easily redeployed to another location. PFM also allows for geographic experimentation as they can be scaled from small to quite large if the site allows. For colocations exploring edge sites to reduce latency and to complement their current offerings, PFM can enable quick and cost-effective installation.
Performance - For remote locations with no local technical or service support, common global platforms that have been factory built and tested and offer remote management and vendor support, can ensure reliable, reactive infrastructures that support the acquisition of new sources of revenue.
Global consistency - For colocation providers exploring multiple expansions, either regionally or globally, PFM designs can be customized to meet business needs around characteristics such as power architecture, thermal management and containment, access control, and security and availability, and then replicated with modifications to meet regional or geographic differences. PFM can reduce vendor and procurement complexity by streamlining purchasing and acquisition of systems and facilities to, in some cases, a single purchase order
Ultimately, PFM is a technology that makes a lot of logical sense when compared with designing and building every new data center as a unique snowflake with all the complexity, cost and time that this bespoke approach typically requires. The demand for agile and globally consistent core cloud sites, as standardized micro-data centers to meet edge demand, will hopefully mean that PFM finally moves from being a disruptor to the industry's default option.