After months of uncertainty, and a year that's been full of challenges, we head into 2021 with hope on our side that we can begin to return to relative normality in a number of months. With vaccines approved and set to be administered before the end of the year, things are looking up. Yet 2021 is also likely to be a year of picking up the pieces and adapting.
Business operations have changed significantly, and organizations will be tasked with rebalancing and reassessing their systems for a working world that looks drastically different from a year ago. We aren't quite out of the woods yet.
With this in mind, here are five trends and predictions that I expect to see in the next twelve months, and which IT and data center professionals should keep their eyes on if they're to come out of 2021 fitter and stronger than before.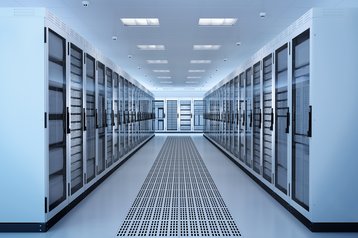 2021 - the year of digital transformation backlash
For those businesses that hadn't already embarked on a digital transformation journey, the pandemic forced them to overhaul their IT, and at speed. In the process, many companies over-rotated in their technology choices, opting for infrastructure beyond their needs and choosing expensive solutions with vast capacity. In the long term, these choices may prove unsustainable, and in 2021 businesses will need to refocus on the medium-term, rebalance and opt for the solutions that fit their needs whilst remaining agile.
In 2021 the CTO's role will need to adapt to being the 'renegotiator' – finding the best-tuned systems for streamlined budgets.
Flexible consumption models will give organizations the breathing space they need to win
With so much uncertainty still upon us, it's unlikely that we'll see the majority of organizations relaxing their purse strings anytime soon. Next year we'll see businesses keeping a closer eye on their spending and reducing overall costs. A key way to do so is by opting for flexible consumption models for their IT infrastructure. Having the ability to manage costs over time without a long term contract will be vital, and being able to avoid large and risky capex infrastructure investments will help organizations to keep themselves in the black.
As ransomware peaks, back ups will offer the last line of defense
Whilst in many cases the pandemic has brought out the best in people, it has also brought out the worst in some. Hackers have taken advantage of the remote working phenomenon to catch users when they're vulnerable, leading to a number of unscrupulous attacks. As such, in 2021 we'll see a continued rise in devastating ransomware attacks, which will lead to organizations turning to backup technologies and services as their last line of defense.
With sustained downtime being almost as expensive as paying the ransom, the speed at which systems can be restored is becoming increasingly important. As such, winning organizations will look to adopt backup solutions that ensure systems are back online within minutes or hours rather than days.
Forget containers – 2021 will be the year of the application
For several years containers have featured in my predictions, whether it be containers going mainstream or the rise of stateful container workloads. As this space further matures we see container granular solutions becoming important and application centricity becoming essential. 
It's all about the business application; consistent and reliable day-to-day operation, encrypting its data, backing up the whole application not just its data and being able to freely move the application from environment to environment, data center to data center or cloud to cloud based on changing circumstance. Whether it's homegrown or off-the-shelf, the focus is on the application.
Tolerance for security and IT failure will drop even further
When everyone flocked to digital platforms to work, learn, socialize and entertain themselves, the bar for acceptable levels of IT failure was drastically reduced. As organizations rushed to meet this demand they may have inadvertently added significant levels of complexity in their systems, and digging deeper, may soon realize this could result in costly periods of potential downtime – either due to security breaches or changes to operational availability.
Reduced levels of accessibility not only become unacceptable in the customer's eyes, but are just as damaging to reputation as they are to the bottom line.