As the saying goes, "a good fence makes for good neighbors." But when it comes to protecting a high-value facility like a data center, a good fence can be the barrier that prevents the next data leak.
A facility's fence is the first step to creating an effective access control program. By starting at the perimeter, companies can create a barrier that can prevent entry, protect from physical brute force attacks and deter infiltration.
When creating the outer layer of an access control system, utilizing a high-security fence is crucial. A simple chain-link fence isn't enough. But, what makes for a good high-security fence? Several factors go into whether a fence is considered a high-security option, including the material it's made from, how it's constructed and the features that the construction enables.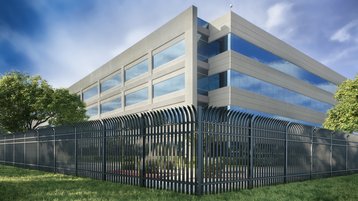 The building blocks of a high-security fence
The primary component of high-strength fencing should be steel instead of lighter gauge aluminum. Steel fencing panels have several noticeable distinctions from the galvanized metal, chain-link or wrought iron fencing commonly seen around homes or apartments. High-security steel fences are heavier and generally have the vertical and horizontal components integrated, which makes it more difficult to cut or remove sections of the fence.
High-security fences also consist of vertical pales rather than standard pickets. A pale is a roll-formed steel shape that is larger in size and gauge of steel than a picket. This creates a visual deterrent, as well as presents significant difficulties when it comes to cutting or accessing the property. Pales are typically spaced at 3 inches or 1 7/8 inch along a C-channel rail, which reduces the gap between them. Pales also generally extend all the way to the ground to add structural stability, making it more difficult to access from underneath.
The rail is another key component in a high-security fence, as its design is intended to not only withstand severe mid-span downforce, but also to prevent climbing. What's more, it can accommodate security cabling or lines for video or power supplies.
Coming together for anti-climb and strength
In application, the materials and construction of a high-security fence create crucial anti-climb functionality, as well. The combination of rale shape, pale spacing and pointed and curved tops limits one's ability to scale the fence. The tops of the fences are also curved, split or spear-shaped, which further discourages trespassers. As well, fences that are anti-climb are generally taller than normal fences and are often more than 8 feet tall.
Should a security fence need additional strength, builders can utilize a number of methods for reinforcement. For example, according to the Whole Building Design Guide, extra cement can be used to secure the vertical pieces during installation, adding strength. At gates or access points, structural elements such as a concrete deadman can bring significant reinforcement.
Integrating additional access control
As part of the broader access control system, a high-security fence can play a significant role in the system's infrastructure. Whether it's integrating cabling for cameras, RFID/badge scanners or biometric or code-based locks, the fence can provide secure attachment points for the entire system.
Designers can add bollards or crash barriers as well as cantilevered gates or guard stations into the layout to further limit access. Physical cables – typically attached to the back rail through threaded inserts and placed inside the rails on the interior side of the fencing – can also be added on the back side of a high-security fence to harden the perimeter and add crash protection.
Infosec experts put firewalls in place to protect digital intrusion. Building and facility designers need to also consider how the fencing and access control systems can protect a data center or other high-value facility from physical intrusion. By utilizing the best options possible, your team can focus on protecting and managing data with the peace of mind that comes with having a secure fortress.