The value, role, and safety of nuclear power has strongly divided opinion, both in favor of and against, since the 1950s. This debate has now, in 2022, reached a critical point again as energy security and prices cause increasing concern globally (particularly in geographies such as Europe) and as the climate crisis requires energy producers to shift toward either non- or low-carbon sources — including nuclear.
At the beginning of 2022, Uptime Institute Intelligence forecast that data center operators, in their search for low-carbon, firm (non-intermittent) power sources, would increasingly favor — and even lobby for — nuclear power. The Uptime Institute Global Data Center Survey 2022 (due to be published in September) shows that data center operators/owners in major data center economies around the world are cautiously in favor of nuclear power.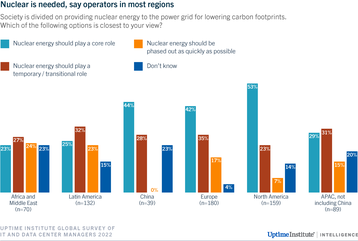 There are, however, significant regional differences.
Europe is more cautions
In both North America and Europe, about three-quarters of data center operators believe nuclear should either play a core long-term role in providing grid power or is necessary for a period of transition. However, Europeans are warier, with 35 percent saying nuclear should only play a temporary or transitional role (compared with just 23 percent in North America).
In Europe, attitudes to nuclear power are complex and politicized. Following the Chornobyl and Fukushima nuclear accidents, green parties in Europe lobbied strongly against nuclear power, with Germany eventually deciding to close all its nuclear power plants. More recently, the Russian invasion of Ukraine has exposed Germany's over-reliance on energy imports, and many have called for a halt to this nuclear shutdown.
In the US, there is greater skepticism among the general population about climate change being caused by humans, and consequently surveys record lower levels of concern about carbon emissions. Uptime Intelligence's survey appears to show data center operators in North America also have lower levels of concern about nuclear safety, given their greater willingness for nuclear to play a core role (Figure 1). As the issues of climate change and energy security intensify, this gap in opinion between the US and Europe is likely to close in the years ahead.
In China, not a single respondent thought nuclear power should be phased out — perhaps reflecting both its government's stance and a strong faith in technology. China, more than most countries, faces major challenges meeting energy requirements and simultaneously reducing carbon emissions.
In Latin American, as well as Africa and the Middle East, significantly lower proportions of data center operators think nuclear power should play a key role. This may reflect political reality: there is far less nuclear power already in use in those regions, and concerns about political stability and nuclear proliferation (and cost) will likely limit even peaceful nuclear use.
In practice, data center operators will not have a major impact on the use (or non-use) of nuclear power. Decisions will primarily be made by grid-scale investors and operators and will be steered by government policy. However, large-scale energy buyers can make investments more feasible — and existing plants more economic — if they choose to class nuclear power as a renewable (zero-carbon) energy source and include nuclear in power purchase agreements.
They can also benefit by siting their data centers in regions where nuclear is a major energy source. Early-stage discussions around the use of small modular reactors (SMRs) for large data center campuses (see Data center operators ponder the nuclear option) are, at present, just that — exploratory discussions.