To date, the critical infrastructure industry has mostly managed effectively with reduced staff, deferred maintenance, social distancing, and new patterns of demand. While there have been some serious incidents and outages directly related to the pandemic, these have been few.
Worries ahead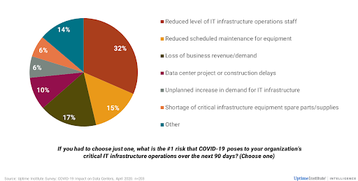 But what worries operators for the months ahead? Clearly, the situation is changing all the time, with different facilities in different countries or states facing very different situations. Many countries are easing their lockdowns, while others have still to reach the (first?) peak of the pandemic.
In an Uptime Institute survey of over 200 critical IT/facility infrastructure operators around the world, a third of operators said a reduced level of IT infrastructure operations staff poses the single biggest risk to operations (see Figure 1).
Staff issues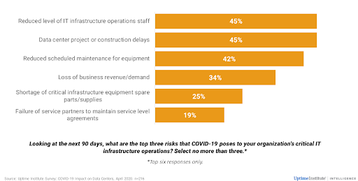 This is perhaps not surprising - earlier Uptime Institute research has shown that insufficient staffing can be associated with increased levels of failures and incidents; and even before the pandemic, 60 percent of data center owners and operators reported difficulty finding or retaining skilled staff. Taken together, reduced maintenance (15 percent) and shortages of critical components (six percent) suggest that continued, problem-free operation of equipment is the second biggest concern.
When asked to cite the top three concerns, data center project or construction delays (see Figure 2) was cited by 45 percent of the respondents (as was the staffing issue). This is perhaps not surprising; when asked later in the survey to select all relevant impacts from among a range of potential repercussions, 60 percent reported pandemic-related project or construction delays.