Zenium Technology Partners has officially opened a 12,000 square meter data center campus in Istanbul. It consists of three buildings and will focus exclusively on wholesale colocation, with its owners claiming it's the first project of this type and scale to be built in Turkey.
"There is huge pent up demand in this country. Zenium is investing in Turkey with the aim of not only setting the standard for wholesale colocation but supporting the growth and availability of data center infrastructure," said Aslıhan Güreşcier, manager for the Turkish market at Zenium.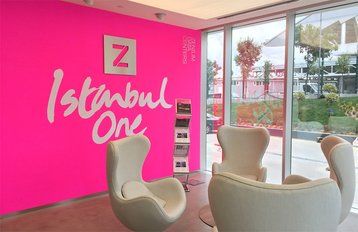 Growing with Istanbul

Zenium is a data center consultancy and investment fund with a proven track record, its founders having previously worked with operators like Global Switch and Sentrum. Last year, the company began offering colocation services under its own brand, following the opening of the Frankfurt One campus in Germany.
The new site in Istanbul, dubbed 'Istanbul One', is located close proximity to the International Financial Center – a US$2.6 billion urban development project that comprises 45 million square feet of office, residential, retail, conference, hotel and park space.
The campus itself consists of three self-contained buildings with carrier-neutral connectivity and 30MVA of power, backed by earthquake-resistant emergency generators.
Istanbul is an attractive city for data centers in terms of customers and connectivity. At the same time it is located close to one of the most active geological 'fault zones' in the world. A widely quoted study published in Science Magazine estimated there's a more than 60 percent chance Istanbul will experience a 7.6-magnitude or greater earthquake by 2030.
The company says all of the buildings on campus have been designed and constructed to meet the highest level of earthquake code, allowing for immediate use and continued operation following a seismic event.
"We believe that the resilience and quality of Zenium's wholesale colocation offering, combined with speed of delivery and the ability to support our customers growing and changing needs, will enable us to become the provider of choice," said Franek Sodzawiczny, CEO and founder of Zenium.
"KoçSistem, Istanbul One's first customer, has already started providing its customers with IT and cloud services from the new facility."
This is the first of several data center projects Zenium plans to build in Turkey.