Vodafone confirmed this week that it deployed temporary mobile phone masts at 71 special events across the UK this summer.
These temporary sites are known as COWs (cells on wheels).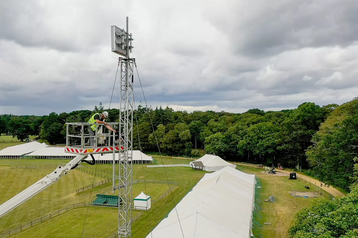 The mobile operator deployed the COWs at several events, including Glastonbury Festival and The Wimbledon Tennis Championships.
Vodafone notes that its COW is a temporary mobile mast that is set up prior to these events to provide connectivity.
Vodafone's chief network officer Andrea Dona told a briefing this week that Vodafone has 24 COWs specifically for these sorts of events.
This number has grown by 30 to 40 percent in the last two years, with a total cost in "double-digital millions."
"COWs allow us to install a telecoms network in a matter of days to deliver this experience, but also makes sure we leave no permanent mark on the landscape," said Dona. "We can flex our network in and out, to deliver a reliable digital experience wherever our customers are."
At Glastonbury, the operator deployed nine COWs, so an estimated 200,000 attendees could consume 168,754 gigabytes of data. A single COW was in operation at Wimbledon for over 500,000 people, who used 64,159GBs of data.
Vodafone also detailed the challenges involved in supporting these events, noting that access to some event sites is only provided a day or two in advance, while the operator isn't always in charge of where the masts are located.
Dona said he wants to see the UK's mobile network operators working together to better connect these events, through a neutral host approach.
Such an approach would require a single company to invest in the infrastructure including towers, sites, and fiber networks, before leasing it to multiple operators on a shared-tenancy basis.
He also talked up the idea of a neutral host approach to installing permanent infrastructure at key sporting venues, and only switching on the sites when they are needed, so that the sites are cost-effective.