UK network provider SSE Enterprise Telecoms is connecting Virtus Data Centres' new London2 data centre in Hayes using its Lightnow optical networking service.
The Lightnow fiber option is already in use at 21 London data centers including the Virtus London1 site in Enfield, and a further nine in Manchester. It offers rapidly provisioned 1Gb and 10Gb optical Ethernet wavelengths between London and Manchester, with sub 1ms latency provisioined within seven days. SSE also offers Virtus customers high-capacity Ethernet, IP transit and internet access services connecting sites across the whole country.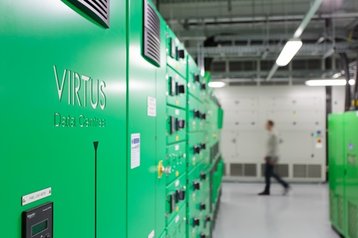 Scalable site, rapid connection
London2 offers scalable on-demand co-location services, in 65,000 sq ft (60,000 sq m) of Tier 3 design certified data center space. Its customers are in cloud technology, secure hosting, professional services and education, as well as financial services and the mining industries.
Virtus built the site within the M25 orbital motorway and close to London's Heathrow airport, on land it owns, arguing this is a superior option to nearby the UK's data center capital in nearby Slough .  
"If you go to Slough, you are effectively a tenant to SEGRO Estates, so all 22 data centers that are in Slough have one landlord. They have a cost base that, over time, they don't have control of," explained Larbey at the London2 launch event in January 2015.
Improved network adds to this, said Larbey, commenting on the addition of SSE's Lightnow: "Ultra-reliable, high-performance connectivity is a fundamental enabler for our rapidly growing customer base at London2."  
And SSE is likewise pleased: "As a company, we've made a significant investment in our UK network in recent years," said Colin Sempill, managing director of the network firm, promising to bring SSE services "to the doorsteps of the UK's most demanding enterprises."