King George County's Board of Supervisors has approved the request to rezone 869 acres of land from farmland to industrial use for Amazon Web Service's (AWS) planned 19-building data center campus.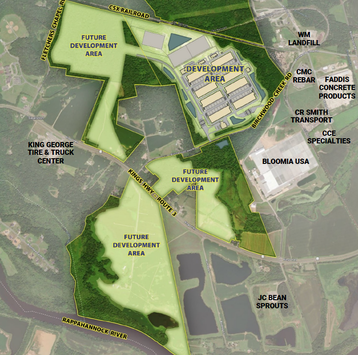 The application for rezoning was made by Birchwood Power Partners on behalf of AWS. While AWS has received this first approval, Birchwood's attorney Charlie Payne said that they will need to get county approval for each phase of the site plans as the project proceeds.
The ultimate goal is for a 19-building data center campus spanning 7.25 million sq ft (673,550 sqm).
The decision was made at the end of a five-hour meeting which was not the first of its kind, after the Board of Supervisors debated until 2:30 am just two weeks earlier. An overall approval has been granted, but some aspects of the development received a split vote, with Supervisors T.C. Collins and Cathy Binder against some aspects.
During the meeting, Binder also raised some of the residents' concerns. "Everyone has said, please take your time and consider us, give us more information, and it does feel like we're rushing," said Binder. "Our community feels like they've been left out of this decision."
Much of the argument in favor of the rezoning and data center development was founded on the potential tax income for King George County. According to Payne, the county could see $17 million in annual real estate and equipment taxes per million sq ft of data center space.
The reality of this, in light of a new state grant fund known as the Cloud Computing Cluster Infrastructure Fund, may look quite different.
The fund is designed to reimburse companies for the costs associated with building infrastructure including fiber, water, and the recruitment and training of workers, among other elements. The money comes from both the state and the locality, with the latter contributing $2 for every $1 the state provides.
Payne argued that the money for this will come out of the revenue generated by the data centers, and therefore won't affect local taxpayers. When asked what the financial outcome would be for King George County, Payne, a financial advisor, and a state official could offer no more guarantee that it "should" be a net positive.
King George County is located east of Fredericksburg and borders the Potomac River. It borders Stafford, Spotsylvania, and Caroline Counties, with the Birchwood site close to the Stafford County line. Not traditionally part of Virginia's data center market, the county added data centers to its zoning ordinance in 2019.
Earlier this year, AWS filed another four applications for Virginia campuses with a total of 10 million sq ft of data center space.