American critical infrastructure specialist Vertiv has opened a manufacturing facility in the coastal city of Rayong, Thailand.
The 84,000 square meter industrial campus will focus on developing turnkey solutions, including pre-fabricated data center modules, for enterprise customers in the region.
"With 5G and IoT, the world's use of data is growing exponentially. We are creating a facility whereby our customers can get fast deployment, high quality infrastructure at the right price so they can meet the demands of their customers," said Steve Shelley, vice president for modular solutions in Asia Pacific at Vertiv.
Betting on modular design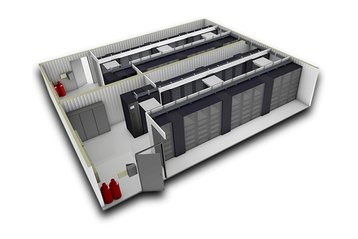 Southeast Asia is one of the world's fastest-growing data center markets, with most of the development focused on the infrastructure hubs of Hong Kong and Singapore. According to research by Technavio, the data center industry in this region is expected to grow at a CAGR of 13.88 percent between 2017 and 2021.
Vertiv is planning to tap into this thriving market with a new factory in Thailand. The site employs engineers, draftsmen and architects, and is equipped with a massive cleanroom that can simultaneously fit 10 of the company's data center modules.
"We always start our engineering from the customer's requirements. So the capabilities in our facility are to build whatever our customer needs. We don't have a one-size-fits all approach," Shelley said.
He added that the company chose Thailand because of its skilled workforce of engineers, and Ryong in particular because of its ample supply of land for large infrastructure projects.
More on modular
Waste heat recovery is now an option for Stulz MicroDC

Using fifteen of Schneider Electric's prefabricated power and cooling modules

New business strategies, processes and technologies are adopted to support a more consistent and rewarding customer experience