Vertiv has launched a pre-assembled micro data center system in Europe, designed for the Edge or small IT sites.
The VRC-S includes a rack power distribution system, a UPS, monitoring sensors, and software. There's up to 3.5kW of cooling which can either be fully integrated or linked to air conditioners in the building. The single-rack system, assembled in a factory, is now available in Europe, the Middle East, and Africa.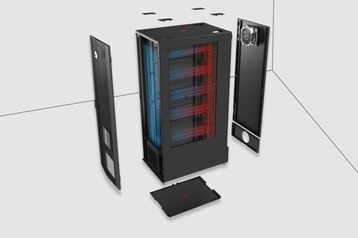 Pre-built Edge system
Vertiv is pitching this for the usual Edge locations, like retail stores, healthcare, and light industrial sites, where fast-responding IT is needed. The system is available in various pre-built options which can be delivered in days and take hours to install, says Vertiv.
The closed single rack is either 42 or 48U, and has its own tiny pseudo hot/cold aisle, with air circulating to prevent hotspots and fan speeds adjusted to the actual load. It has 3.5kW of cooling, either as a split system (connected to an external air conditioning system) or self-contained, with the hot air rejected through exiting a top vent, which includes a fan for emergency use. Waste heat can be vented into, for instance, a suspended ceiling.
"The Vertiv VRC-S is a very efficient plug and play solution that can be delivered to your location with integrated UPS, which powers both the in-rack cooling and backup ventilation as well as the power distribution for IT assets, with pre-wired monitoring for simple connection to your utility power and network," said Alex Pope, VP of integrated rack solutions for Vertiv in EMEA.
"This new offering is a strategic result of Vertiv's product innovation roadmap and latest R&D investments, which will progressively bring more edge-ready, micro data center solutions to the market".
The Vertiv VRC-S has a three-year warranty and can be installed by local Vertiv staff or channel partners. Vertiv also offers Vertiv XR, an augmented reality app to look at it virtually.