Vantage Data Centers has started building its V5 data center in Santa Clara, California, after the city authorities approved the design and issued permits for construction last week.
The four-story facility will add 15MW of capacity to Vantage's wholesale data center campus in Santa Clara, which currently holds four operating data centers. Vantage expects to have the new capacity available by mid-2018.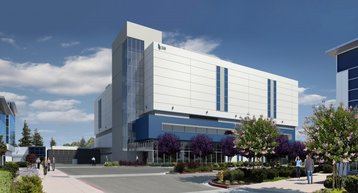 Big man on campus
The Vantage campus has two projects on the go now - the two-story V6 facility is under construction, and expected to be available later in 2017, adding 9MW of capacity to the site.
To support the V5 and V6 facilities, Vantage has been expanding the power at the site. A third 50MW substation is on the way, taking the total capacity at the substation to 150MW.
The total critical IT load supported that can be supported at Vantage's campus will increase from 51MW to 75MW, the company reports.
"We are very grateful for the continuing support of the City of Santa Clara and Silicon Valley Power (SVP) in helping us fuel continued expansion and innovation in the region," said Vantage president and CEO, Sureel Choks.
Vantage is also developing a second Silicon Valley campus which will have 69MW of capacity. The company also has plans to augment its 6MW data center in Quincy, Washington with four additional data centers creating another campus.