A new supercomputer has been deployed at the University of Granada, Spain.
The $1.36 million machine, named Albaicín, after the region in Granada delivers 822 teraflops at peak performance.
The Huawei-manufactured system has 170 nodes including 9,520 processing cores using Intel processors. The interconnection between all the computing and storage components is carried out through a non-blocking Infiniband network from Mellanox and 200 Gbps HDR technology.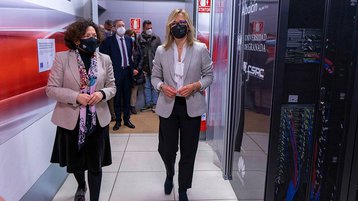 According to Jesús Rodríguez Puga, IT department head of the CSIRC-Research and Supercomputing Systems, the system is "capable of reducing in just 24 hours highly complex scientific processes that could have taken 25 years to complete."
Albaicín will be available to over 125 research groups and 500 researchers from UGR and other Universities for research into a variety of subjects, including biomolecular structures, atmospheric models, stellar dynamics, nanoparticles, electromagnetism, learning models, and artificial intelligence, statistical studies, and many other areas that require massive data processing.
Albaicín is significantly more powerful than the other two distributed memory supercomputers owned by UGR, the 2007 UGRGrid, and the 2013 Alhambra. The new supercomputer multiplies the power of UGRGrid by 200, and Alhambra by 20.
The supercomputer will be housed in the Patron Building of the Faculty of Science of the University of Granada and is a part of the Supercomputing Service of the Center for Computer Services and Communication Networks (CSIRC).