Underwater research habitat 'Proteus' has made a significant step toward deployment.
This week Proteus Ocean Group signed a deal with the National Oceanic and Atmospheric Administration (NOAA) agreeing to a 2026 deployment and to conduct research together.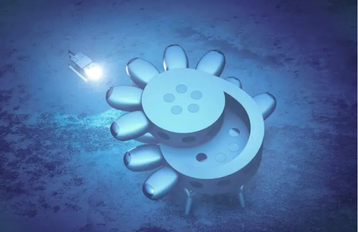 The underwater lab will stretch 2,000 sq ft (185 sqm) and will feature a data center, private aquanaut suites, an underwater studio, wet and dry labs, and will be powered by wind, solar, and ocean thermal energy conversion technology.
Information about the on-site data center has not been shared. DCD has contacted Proteus Ocean Group for more information.
Fabien Cousteau, chief oceanic explorer of the Proteus Ocean Group and grandson of Jacques Cousteau, said: "The discoveries we can make — in relation to climate refugia, super corals, life-saving drugs, microenvironmental data tied to climate events, and many others — will be truly groundbreaking."
Proteus Oceanic Group and NOAA will undertake joint expeditions, exchange personnel, and share methods of operation in their missions to study the ocean
The site will be a two-story circular structure, and will also feature an underwater greenhouse and a video production facility for lives streams of scientific research, similar to that of NASA's space station
The laboratory, plans for which were first announced two years ago, will be located at an approximate depth of 60 feet in the ocean by the Caribbean island Curacao, and will house up to 12 scientists and innovators.
Proteus has been designed to be a larger and more modern version of Aquarius, a 400 sq ft laboratory deployed in 1986 off the coast of Florida.
More in Construction & Site Selection