The British government is set to reverse a decision to let Huawei continue to be a major part of UK telecoms networks.
In January, a month after his election, Prime Minister Boris Johnson put forward plans for Huawei to be allowed to take part in the ongoing 5G network roll-out, with a market share cap of 35 percent, and a ban from the "core" of the network.
But a lot has changed since January. Rancor within Conservative ranks was already growing month by month, while US criticism was mounting - including an "apoplectic" phone call from the President.
Then the pandemic hit.
Now, with claims that China is hacking US Covid-19 research institutes, and that the country is trying to leverage an economic advantage from the crisis, Johnson looks set to reverse course. The Prime Minister, himself weakened by repeated missteps in his handling of the pandemic, is set to block Huawei from the 5G roll-out, and may also be looking to remove the company's existing 3G and 4G infrastructure from the network.
A classic 'will they/won't they' story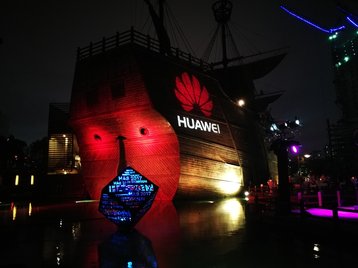 Boris Johnson has instructed officials to draw up plans to bring the company's involvement in the UK's telecommunications infrastructure down to zero by 2023, The Telegraph reports.
"He still wants a relationship with China but the Huawei deal is going to be significantly scaled back," a 'well-placed' source told the paper. "Officials have been instructed to come up with a plan to reduce Huawei's involvement as quickly as possible. He has taken a great many soundings from his own MPs on this issue and shares their serious concerns. The deal was struck before the pandemic hit but coronavirus has changed everything."
The National Cyber Security Centre (NCSC), which previously called Huawei 'high-risk,' is set to lead another security review of the company, which is expected to give Johnson the cover to reverse course. The emergency review will also look to analyze whether mounting US sanctions against the company will make it impossible for Huawei to develop its 5G technology.
Some have noted that removing, or even reducing, Huawei's involvement will be a difficult and costly exercise. Ministers are thought to be exploring an alternative that would prohibit future Huawei installations from 2023, "otherwise we'd be asking BT to essentially rip up the entire fiber-optic network," one official told The Times. Another idea would be to simply ban the company from 5G technology, and placate a growing number of backbenchers (members of parliament without a formal government position).
Others still don't think a full ban goes far enough. "I know the UK is looking at how to get Huawei out of its network by 2023, it should seek to do this, but by then the damage will be done," Anders Fogh Rasmussen, former Nato secretary-general and prime minister of Denmark, told The Times.
In a statement to DCD, Huawei VP Victor Zhang said: "We've seen the reports from unnamed sources which simply don't make sense. The government decided in January to approve our part in the 5G rollout, because Britain needs the best possible technologies, more choice, innovation and more suppliers, all of which means more secure and more resilient networks.
"As a private company, 100 percent owned by employees, which has operated in the UK for 20 years, our priority has been to help mobile and broadband companies keep Britain connected, which in this current health crisis has been more vital than ever. This is our proven track-record."
Britain's decision comes at a critical time for the small nation, which is trying to strike its own trade deals as it fully leaves the European Union this year. After the UK originally sided with Huawei, the US said that it would offer less-than-favorable trade agreements as a result. Now that the country looks to back Washington, Beijing appears equally likely to remember this decision when at the negotiating table.
"Such a decision will deliver little benefit to the UK itself," state-owned China Daily wrote in an editorial this weekend.
"Kicking out Huawei equipment from British networks will considerably increase the financial burdens for service providers, delay 5G rollout in the country, hurt relations with China, darken the UK's post-Brexit economic prospects, and erode confidence in the UK's long-standing reputation as a market economy."