Ahead of Trump's ascendancy to the office of the President of the United States later this month, CEOs and business leaders from around the world are making their own ascent - in the gilded elevators of the Trump Tower.
They are arriving to meet the President-elect and his transition team, to put focus on jobs, on their businesses, and, occasionally, to make peace with a character they have publicly opposed.
Bend the knee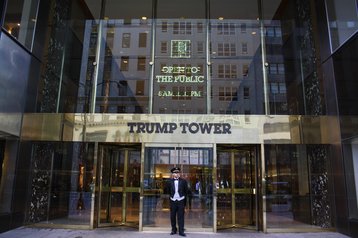 This week, as reported by the scrum of reporters camped in the skyscraper's lobby, was no different. Eric Schmidt, executive chairman of Google's parent Alphabet, made his second journey to the tower, one month after he joined other tech giants in meeting the next president.
The details of Schmidt's follow up meeting have not been revealed, although reports from the first encounter claim he suggested Trump should try to be the 'Software President.'
So far, Schmidt - whose incredibly close ties to the Obama administration and support for Clinton we have detailed previously - remains the head of the Pentagon's Defense Innovation Board, but it is unclear if he will retain anywhere near the same level of access to the White House.
Trump's appointment of Dina Powell as Assistant to POTUS & Sr. Counselor is a brilliant & inspired choice. I've always been impressed by her

— Eric Schmidt (@ericschmidt) 12 January 2017
Thursday morning saw AT&T's CEO Randall Stephenson and vice president for legislative affairs Robert Quinn meet Trump, with many speculating that discussions revolved around the company's proposed $85.4 billion bid for Time Warner Inc.
During the election campaign, Trump said: "As an example of the power structure I'm fighting, AT&T is buying Time Warner and thus CNN, a deal we will not approve in my administration because it's too much concentration of power in the hands of too few."
Earlier this week Trump called CNN a fake news organization, causing some to suggest that AT&T may abandon CNN if it wishes to acquire the rest of Time Warner.
.@CNN is in a total meltdown with their FAKE NEWS because their ratings are tanking since election and their credibility will soon be gone!

— Donald J. Trump (@realDonaldTrump) January 12, 2017
However, the company told The Street that the merger was not discussed, adding that it was about "how AT&T can work with the Trump administration to increase investments in the US, stimulate job creation in America, and make American companies more competitive globally."
When asked about Trump's current thoughts on the merger, spokesperson Sean Spicer said in a press call: "I think you've seen by the meetings that he's had with other CEOs, his primary focus is how companies can continue to create jobs, lift up wages and the policies and regulations that are standing in the way of creating further jobs for Americans, creating higher-paid jobs and also creating economic growth, and them doing additional business in other countries, market access and things like that."
In a similar vein, Trump has taken credit for Amazon's recent announcement that it hopes to hire 100,000 new employees in the US over the next 18 months, including staff for Amazon Web Services.
"The announcement was made after the president-elect met with the heads of several other tech companies and urged to keep their jobs and production inside the United States. As you know Jeff Bezos was an integral part of that," Spicer said.
It is important to note that the Trump team previously took credit for a $50 billion/50,000 job investment from SoftBank, which had been announced prior to his election victory.
Also promising to bring jobs to the US is Jack Ma, the head of Alibaba, who visited Trump earlier this week. 
Other techy Trump Tower visitors included Balaji Srinivasan, CEO of bitcoin start-up 21.co, and Jim O'Neill, managing director of investment firm Mithril Capital Management - both were reportedly being considered for roles within the Food and Drug Administration. Peter Thiel, an enterpreneur who backed Trump early in the race and retained a strong influence over President-elect's worldview in matters regarding technology, is an investor in 21.co and co-founder of Mithril Capital Management.
One of the people Trump will consult regarding technology is a man who many wouldn't describe as a cyber security expert - Rudi Giuliani. The former New York mayor will become a cyber security adviser to the President, building on his questionable experience at Guiliani Security & Safety.
As part of his new job, Giuliani will help Trump with meetings between Trump and corporate executives over cyber security issues.