Trident Subsea Cable has chosen Equinix's International Business Exchange (IBX) data centers in Australia and Asia for the cable's Points-of-Presence in the region.
Set to be completed in Q2 2018, the 28 Tbps bandwidth cable, uses 100Gbps coherent DWDM technology which could be upgraded to 400Gbps technology in the future. It will connect Australia, Singapore and Jakarta.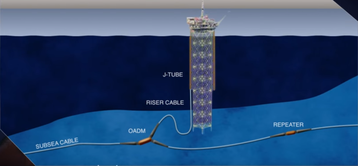 Under the sea
The cable will connect to Equinix's IBX data centers in Melbourne (ME1), Sydney (SY1), Singapore (SG3) and Jakarta (JK1).
"We have selected Equinix for its rich, global network of provider-neutral data centers, and its strong footprint in Australia and Asia specifically," Alexis Pinto, CEO, Trident Subsea Cable said.
"By establishing interconnection points in SY1, ME1, SG3 and JK1, we can provide easy and low-cost access to customers in all key capital cities across our network, as well as all the major carriers and cloud providers who are already part of the Equinix ecosystem."
Jeremy Deutsch, MD of Equinix Australia, added: "Trident is a great addition to the list of network service providers on offer in Equinix, and presents further connectivity options to our customers, particularly in Melbourne, where Trident is the first international submarine cable to establish a PoP in ME1.
"We're proud to facilitate greater business opportunities between Australia and Asia and provide the gateway for local businesses to enter the Asian market."