With the arrival of December, the number of hyperscale data centers around the world has reached 300 facilities, according to a report from Synergy Research.
The number was nudged upwards with the recent opening of new server farms by Amazon, Google and Alibaba.
US still hosts more hyperscale data centers than any other country, being responsible for 135 individual sites or 45 percent of the total.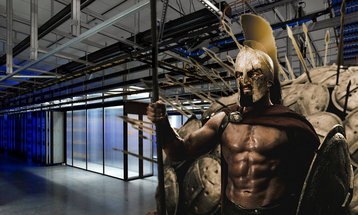 300 hyperscalers
The term 'hyperscale' refers not just to the size of a data center, but also its network architecture and the approach to hardware. Hyperscale data centers like open source tools, treat their servers like cattle, not pets, and enjoy a high degree of software automation.
Only a handful of global digital businesses are capable of building such facilities. They include the likes of AWS, Microsoft, Yahoo, Twitter, Baidu and Oracle.
In its research, Synergy looked at 24 of the world's largest cloud and Internet service firms. Most of them are American, so it will come as no surprise that the US leads the world in the number of hyperscale data centers, with 135 facilities. It is followed by China and Japan with 24 and 21 hyperscale data centers respectively. The top five is rounded out by the UK with 15 facilities and Australia with 12.
"Hyperscale growth goes on unabated and we are forecasting that hyperscale operators will pass the 400 data center mark by the end of 2018," said John Dinsdale, a chief analyst and research director at Synergy Research Group.
"What is remarkable is that the US still accounts for nearly half of all hyperscale data centers, reflecting the US dominance of cloud and internet technologies. While other countries are now featuring more prominently due to either their scale or the unique characteristics of their local markets, the major players continue to invest heavily in US data center operations."