Superloop today announced that its TKO Express cable in Hong Kong is now live. The domestic submarine cable connects Tseung Kwan O Industrial Estate located at the Kowloon Peninsula to Chai Wan on Hong Kong Island.
Successfully installed across the eastern entrance of Victoria Harbour earlier this year, Superloop says that the TKO Express cable system with its 1,728 fiber cores has the highest core count of any subsea cable system ever deployed.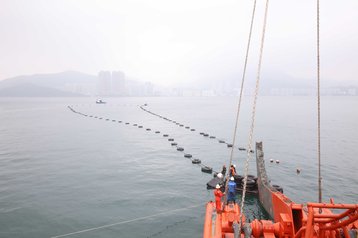 So much fiber
Superloop claims to have developed an alternative, geographically separate route for TKO Express to help it cater to companies in the financial, telecommunications and media sectors. The company also says that its cable system is 20 km shorter than alternate network routes connecting the two regions.
"TKO Express is by far the most direct route linking the HKEX Hosting Services Datacenter with Hong Kong Island," said Bevan Slattery, the executive chairman and CEO of Superloop.
"That's important for financial institutions who rely on low-latency connectivity to the HKEX Hosting Services Datacenter for transactions that can be won or lost in milliseconds." 
Both Tseung Kwan O and Chai Wan are precincts with a substantial number of data centers. The former rose to prominence after the Hong Kong government, in a bid to alleviate the shortage of land faced by the data center industry, introduced a slew of measures that include setting aside land at the Tseung Kwan O industrial park for new data centers.
It culminated in the birth of a cluster of large data centers that included NTT's Hong Kong Financial Data Center and Sunevision's iAdvantage Mega Plus, the latter being touted as Hong Kong's largest colocation facility when fully fitted out.