South Dublin Routing 4, a company linked to investment fund Oaktree Capital, plans to build three data centers in Blanchardstown, Dublin - but with increasing concern about the electrical grid, the campus will be powered by a high-pressure gas pipeline.
The company, previously known as Orion Reo, is led by Anthony Noonan, director of Oaktree Capital Ireland Limited.
Hungry data centers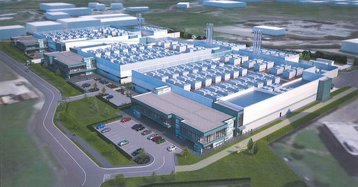 First spotted by The Irish Independent, the three data centers will span 31,537 sq m (339,461 sq ft) altogether. The campus is planned to be set on a 5.73-hectare site previously owned by logistics firm Brian Daly Transport, in the Orion Business Park in Dublin.
But, with Ireland home to more and more data centers, the electric grid has struggled to keep up. Earlier this month, state energy company ESB Networks dubbed "power-hungry" data centers a risk.
"This level of demand growth is unprecedented and would almost double the demand in Dublin over a five-year period," a spokesperson said at the time.
With the Orion Reo site, the company plans to deal with the grid issues by turning to the ample nearby gas supply.
In a supporting document to the planning application by specialist power consultancy Bitpower Energy Solutions, it states: "EirGrid have indicated that new power connections over 10MW in Ballycoolin and the wider area would require deep reinforcement of the current grid infrastructure which is already operating near maximum capacity. This process could take up to seven years to complete, thus restricting the growth or creation of schemes / developments in the area with high electricity demands for the immediate future.
"By contrast the Natural Gas network is often overlooked as a power source and consequently is under-utilized. Ballycoolin is fortunate to be serviced by a high pressure gas pipeline that runs along the Cappagh Road, very close to the subject site. It is proposed to take advantage of this under-utilized infrastructure to power the proposed data center."
If successful, the data centers won't be the first in Ireland to resort to gas power - Microsoft is building an 18MW gas power station for its data center in the Grange Castle Business Park, Clondalkin, to help the struggling grid.