Telehouse has announced a further expansion of its North Two data center in London, opening two more floors in the multi-story facility.
Telehouse launched two floors of colocation at North Two in 2016. The next two floors had to be built quicker than expected, due to growing customer demand for high density infrastructure in London. Telehouse attributes the demand to a range of technologies including hybrid cloud, artificial intelligence (AI), virtual reality (VR) and the Internet of Things (IoT).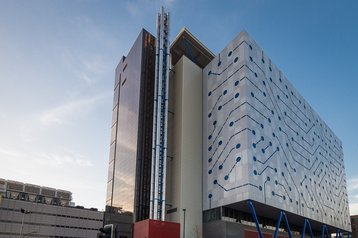 Altered priorities
Telehouse, established as Japanese telecom company KDDI's data center arm in 1989, provides colocation, ICT and managed services; its London North facility was the first purpose-built carrier-neutral data center in Europe, and the company now owns 48 colocation facilities in major cities around the world.
"Enterprise IT priorities have shifted with applications being distributed over a number of different cloud services and platforms," the Telehouse release said, citing analyst Penny Jones from 451 Research. Optimizing these platforms and controlling costs is important for the bottom line. Meanwhile, VR is making games more demanding, while the number of connected, data-intensive gadgets is increasing.
"The London market is the most mature colocation market in Europe, and it is the fourth largest by operational supply in the world," Jones said in an article for DCD in November. The city is also home to a mature group of enterprises, which are progressing with their digital strategies, and taking advantage of hybrid cloud.
Telehouse North Two will provide storage, compute and networking facilities with fast connections to businesses at its Docklands campus, including the London Internet Exchange (LINX), which has been leasing space from Telehouse for more than 20 years.
"We are pleased to announce this development for our latest addition to our data center campus, Telehouse North Two," said Ken Sakai, managing director of Telehouse Europe.