Deutsche Telekom's T-Systems has partnered with the Fraunhofer Institute for Factory Operation and Automation (IFF) for a new sustainability research project at its Biere and Magdeburg data centers in Germany.
The goal is to create a net-zero energy data center that is entirely self-sufficient and does not draw any energy from the national power grid. To achieve this, T-Systems and Fraunhofer IFF will look at photovoltaics and wind power as well as better cooling technology, heat recovery, and more efficient computers.
"Data centers concentrate high energy requirements at a few locations," said Johannes Krafczyk, responsible for data center innovations at T Systems. "The impact of CO2 reduction measures and technologies is therefore potentially very high."
Register now for our upcoming virtual conference on data center energy integration: DCD>Grid Scale
Net-zero energy data centers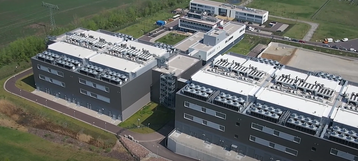 T-System's Biere facility opened in 2014 and expanded in 2018, and currently has an energy efficiency value of 1.3 PUE. The project team analyzed the possible applications of 98 technologies and individual measures to reduce the CO2 footprint of Biere and its twin data center in Magdeburg. The company thinks it will be able to save up to 20,000 tons of CO2 per year.
"Despite the already very good PUE value, a higher degree of self-sufficiency of up to 50 percent is theoretically possible," said T-Systems. "With increasing digitization, the power consumption of data centers will foreseeably rise, that's why T-Systems is already looking for ways to reduce power consumption and CO2 production."
A pilot project with water-cooled racks is already underway at the Magdeburg data center to compare energy efficiency with conventional air cooling.
"We are currently examining the feasibility and economic viability of specific measures, such as the use of waste heat," explained Dirk Kabelitz, director of the Datacenter Campus Biere. "Likewise, we are investigating self-supply from sustainable energy sources."
Deutsche Telekom is aiming to be climate-neutral by 2040 at the latest, and says as of this year the company says it is only sourcing renewable energy for its operations.