T-Mobile has claimed what it calls a country-first use of 5G network slicing for remote video production on a commercial network.
The carrier noted in a blog post that it carried out the network slicing during Red Bull's Cliff Diving event in Boston in June.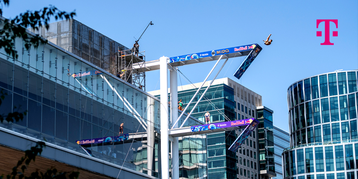 In the post, T-Mobile US CTO John Saw said that the carrier paired a hybrid network from its 5G Advanced Network Solution (ANS) with its standalone network to boost broadcasting capability at the event.
Network slicing allows telecom operators to create separate and isolated networks for different use cases, while the slice can be configured differently. This method is underpinned by Standalone 5G.
According to Saw, the customized slice provided the broadcast team with faster data rates in wireless uplink speeds, meaning they could easily and quickly transfer high-resolution content from cameras and a video drone circling the event to the Red Bull production team in near real-time over T-Mobile 5G.
Saw claimed that T-Mobile was able to deliver uplink speeds of up to 276Mbps during the event.
"With an increase in demand straining limited spectrum resources, network slicing allows us to ensure that critical communication needs are met without having to build excessive capacity scaled to meet extreme loads," noted Saw, who said network slicing can also help to maximize the efficient use of spectrum.
More than 20,000 visitors attended the event last month, confirmed Saw, who stated that attendees used their devices as they normally would. Saw said that because of network slicing and traffic management, their traffic did not impact the Red Bull production – and vice versa.