Dutch colocation specialist Switch Datacenters said it has achieved PUE of just 1.04 in its facility in Amsterdam, using a cooling system developed entirely in-house.
To achieve this result, the company deployed a patented indirect adiabatic cooling system with synthetic heat exchangers.
"Just buying and implementing the vendor-developed cooling solutions available in the market won't set you apart," said Gregor Snip, CEO and founder of Switch Datacenters.
"Our indirect adiabatic cooling technology is comparable with Excool's cooling innovation, implemented by companies like Digital Realty, Rackspace and VIRTUS, but ours is even more efficient, I can say."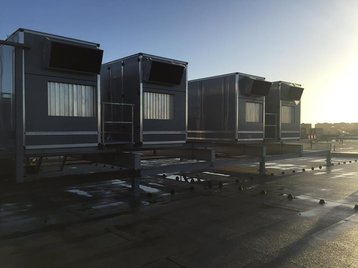 Cooling for fun and profit

Switch Datacenters has long experimented with innovative approaches to cooling and power distribution. It has previously investigated liquid cooling, free-air cooling and aisle containment.
The latest experiment at AMS1 has helped lower PUE using indirect adiabatic cooling – a method that reduces server room heat through a change in air pressure caused by volume expansion.
Each isle across the data center has its own air socks connected to air handling units on the facility's rooftop, with a plenum in between. The warm air rises and hits the synthetic heat exchangers. As the absorbent layer on the surface of the primary airside is kept moist, process air going in the opposite direction evaporates the moisture and cools primary air down.
The data hall as a whole gets chilled while the air from the hot aisle is being recycled.
"Our R&D engineering team has done a great job in developing this innovative and patented cooling solution," Snip added. "It really is top of the bill. It enhances the reliability of our data centers in line with current Tier 4 setup and makes them even more efficient in terms of energy efficiency and operational costs."
Switch is working on a version of the system for the wider data center market, expected to be launched in the beginning of 2017.
The deployment of the new cooling system is part of a planned expansion of the facility in Amsterdam, offering additional capacity of about 400 racks.