Deltalis, the company that was aiming to build "the most secure data center in Europe" in a former military bunker, located in the Swiss Alps, is exiting the retail colocation business.
The change of direction was rumored since April, and was inadvertently confirmed by CEO Frank Harzheim in an email to DCD.
The company's website has removed all references to data centers and colocation - at the moment, all it displays is a huge Deltalis logo. The Twitter account has been dormant since February.
New horizons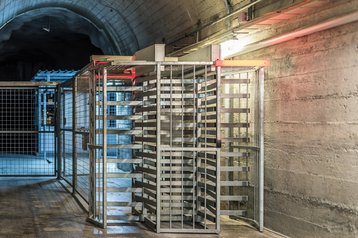 Deltalis was established in 2011 to create a brand around reliability and security: its data center in a former Swiss Army bunker was originally built to withstand a nuclear strike. It is surrounded by reinforced concrete, heavy steel doors and granite rock, and even features faraday cages to protect against the effects of an EMP attack.
The site is located near the village of Attinghausen, about 80 kilometers from Zurich. Construction of the facility began in 1948, and it served as an active Command and Control center during the Cold War.
Deltalis was planning to run the bunker as a colocation data center with up to 10,000 square meters of space. However in April, sources told local publication inside-channels.ch that the company was planning to discontinue its operations towards the end of the year, and its customers were looking for alternative arrangements. Deltalis refused to comment on the matter at the time.
DCD has confirmed that the venture is being taken over by an unnamed party, which is changing the business model. The details of this transaction have not been disclosed.
One potential application is a secure mining and storage facility for cryptocurrencies – the campus had already attracted a number of customers in this space that were impressed by its physical security features, including Xapo, WISeCoin and NEO.