Swansea council is looking to migrate its on-premise data center in the city from the Civic Centre to its Guildhall building.
According to Swansea Council, current data center at the council's Civic Centre "has been updated as far as possible". The council's 'new and improved' data center is set to be located at its Guildhall building, with the migration is due to go ahead sometime this year.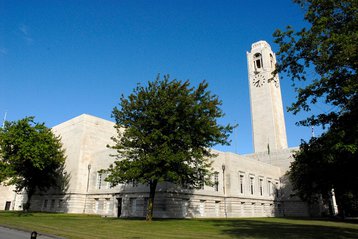 "This will help meet the needs of more and more people using the council's online services, as well the council's move towards more agile working for its staff," the council said. "It's anticipated the improved data center at Guildhall would be about 60 percent smaller than its current size, helping deliver significant energy savings while also providing improved efficiency, storage, cyber security and resilience."
The council said the costs of developing and moving to the new data center would be covered by funding the council has in reserve.
"As well as our new plans to upgrade all council-owned play areas and improve Swansea's skate park facilities, we're also looking to strengthen our digital systems and services, which have been so important for hundreds of thousands of people during the pandemic," said Cllr Rob Stewart, Swansea Council Leader. "Not only will a new and improved data center make these digital systems and services more efficient and resilient for years to come, but it will help cut the council's carbon footprint as well because of the energy savings it will create."
The migration has been in the works for a number of years as the local council looks to redevelop the area. The Civic Centre was put up for sale in 2015 to fund city redevelopment; in 2016 it put forward plans to demolish the building and develop a 'hydro hub' on the site that could include a public aquarium and a state-of-the-art aquatics research centre, new apartments, town houses, cafes and restaurants, and a public square.
In May 2021 the Twentieth Century Society placed the Civic Centre site – constructed in two phases between 1979-84 as the HQ for West Glamorgan County Council and designed by the County Architects Department alongside J. Webb and C. W. Quick – on its Top 10 Buildings at Risk List. In September 2021, Swansea Council appointed regeneration company Urban Splash as its preferred development partner for a number of key sites, including the Civic Centre.
The Guildhall was built in 1932 and is a Grade I listed building. The building includes a 48-meter (157 ft) art deco clock-tower. According to council documents, Swansea is also utilizing Oracle Cloud as well as its on-premise facility; Oracle opened a Government cloud region in Wales in 2020.
More in Construction & Site Selection