Enterprise Linux specialist Suse and hardware vendor Supermicro are set to collaborate on a range of converged IT products.
The first product to be released under this partnership is a private cloud infrastructure platform running Suse's distribution of OpenStack.
"These solutions harness the innovation of open source with the backing and support of global providers Supermicro and Suse," said Phillip Cockrell, vice president of Worldwide Alliance Sales at Suse. "They are supplanting traditional, more-expensive cloud and storage solutions, giving customers more choice and flexibility to meet their business objectives and better serve their own customers."
Trust the lizard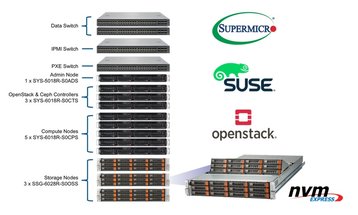 Suse is a German software company owned by Micro Focus that has been developing its own distribution of Linux for more than 25 years, recently emerging as one of the leaders in the rapidly growing OpenStack market.
The partnership with Supermicro will give it access to cost-efficient server platforms that have a reputation for reliability. Supermicro already runs a similar partnership with CoreOS, the open source software company responsible for the popular Tectonic platform used for managing Linux containers.
Upcoming products will feature Supermicro's network switches, controllers, compute nodes and storage nodes, fully certified to run software from Suse including its OpenStack Cloud, Enterprise Storage (powered by Ceph), embedded Linux and Linux Enterprise Server for SAP Applications.
"Supermicro's NVMe-enabled OpenStack hardware with Suse's proven enterprise software suite maximizes compute performance," said Michael McNerney, vice president for Software Solutions and Infrastructure at Supermicro.
"Combined with space-efficient SimplyDouble storage you get unparalleled block and object services to deliver a scalable cloud datacenter infrastructure. When maximum performance is required, our 1U Ultra SuperServer with 10 hot-swap NVMe drives provides unbeatable storage throughout."
At the end of 2016, Suse acquired HPE's entire Helion OpenStack business. In return, the company promised to lend HPE its expertise in all matters open source.