The Sudanese government shut down the Internet for most of October 25th as tens of thousands protested on the anniversary of a military coup.
Bloody protests have gripped the country since military leader General Abdel-Fattah Burhan seized power last October, destroying fledgling efforts to build a democratic system. At the time, the Internet was also shut down.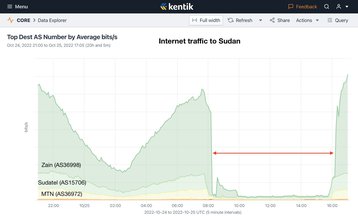 "Mobile operators Zain, Sudatel and MTN were down from 7:50 to 16:15 UTC (9:50am to 6:15pm local)," the director of Internet analysis at Kentik, Doug Madory, said of this week's outage.
Protesters got within 1km of the palace, but were pushed back by security forces wielding tear gas, stun grenades, and water cannons. At least one person was killed when they were run over by a military truck, the Central Committee of Sudanese Doctors claims.
"Even though they blocked the Internet and closed the bridges, we will keep putting pressure on the military until they step aside," Salah Abdallah, a 21-year-old university student, told Reuters.
Protesters chanted "power belongs to the people, the military belongs in the barracks."