ST Telemedia Global Data Centres (STT GDC) has partnered with industrial property developer Ticon to build a number of data centers in Thailand.
The first project for the joint venture is a facility in a "strategic" location in Bangkok, due for completion by 2020.
"Partnering with Ticon … provides us with one of the strongest local networks who has intimate understanding of the Thai market, wide access to land banks as well as extensive experience in property development in the commercial and industrial space in the Greater Bangkok area and across Thailand," Bruno Lopez, Group Chief Executive Officer of STT GDC, said.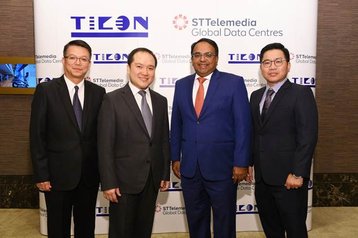 New contestant

STT GDC is one of Asia's largest data center operators, with six facilities in Singapore, where it is headquartered, and some 50 more across Asia and Europe, under well-known brand names such as GDS Services in China and Virtus in the UK. It is a portfolio company of Temasek Holdings.
Ticon Industrial Connection, majority owned by Frasers Property and TCC Group, specializes in leasing factory and warehouse space across Thailand, with a portfolio totaling more than 2.7 million square meters (29 million square feet).
The joint venture between the two will be called Ticon Technology, with the ownership split 51-49 in Ticon's favor.
"Thailand is in its transition to a full-fledged digital economy, as evident in rising adoption of digital technologies and systems for greater competitiveness of companies across industries as well as in robust emergence of e-commerce businesses and fintech industry in Thailand," Panote Sirivadhanabhakdi, Chairman of the Executive Committee of Ticon, said.
"The trend is also favored by government policies including Thailand 4.0 economic model, digital economy master plan, and high-speed Internet infrastructure projects. As a result, the market for IT services has grown by leaps and bounds, especially the data center market that is expected to double in size over the next three years.
"All these translate into a great opportunity for TICON to expand into such new business, as well as to demonstrate its capability and reaffirm its status as the leading developer and total solutions provider of industrial properties."