Sony has acquired Optical Archive Inc. – a company which repurposes Blu-Ray discs for 'cold' data storage, using machines best described as giant robotic jukeboxes. It was founded by Frank Frankovsky, one of the original architects of Facebook's Open Compute Project (OCP).
Facebook tested the Optical Archive technology in its own data centers, using 10,000 Blu-ray discs to hold a petabyte of data.
Sony, which revealed the first Blu-Ray prototype almost fifteen years ago, hopes that the deal will result in new optical disc library systems that will meet the technological demands from the growing cold archive market.
"Optical disc libraries will provide many advantages to customers who are currently using tape or hard drive technology to store cold data, such as lower costs, extremely durable media life, and higher data throughput rates. We plan to leverage and expand our existing optical disc production lines in order to accommodate the growing demand for this media," said Terushi Shimizu, SVP and deputy president of Device Solutions Business Group at Sony.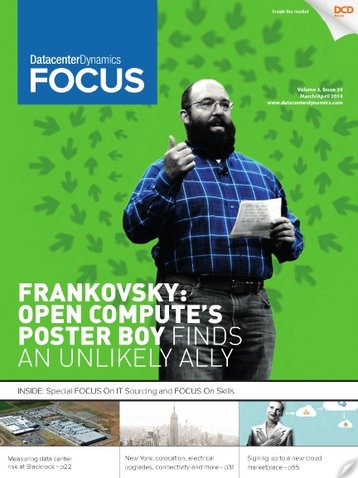 New lease of life
Before choosing to focus on his duties as the CEO of Optical Archive in 2014, Frankovsky served as vice president of hardware design and supply chain optimization at Facebook, as well as the head of OCP.
A notable speaker on infrastructure issues, he has appeared on the cover of DatacenterDynamics magazine several times – most recently in February 2015 (see right).
Optical Archive wants to find a more efficient way to store 'cold' data – which needs to be retained for long periods of time, but is rarely accessed. This includes backup data, information that must be kept for legal purposes, as well as photo and video archives.
Optical Archive machines use high capacity 50GB Blu-Ray discs in cartridges, which are loaded into magazines and then stored in specialized racks. A robotic 'picker' is responsible for finding the requested disc and playing it.
This approach promises several benefits: Blu-Rays can reliably store information for at least 50 years while consuming less power than hard drives, since the discs are only spinning when they are being written or accessed. The medium is cheaper and offers faster access speed than tape, despite having to involve robots in the process.
"Merging Sony's excellence in optical engineering and manufacturing with OAI's experience and capabilities in data center hardware design and operations will deliver innovative new storage solutions to customers," said Frankovsky.
Blu-Ray might be squeezed out in the consumer space – as we opt for more convenient video-on-demand formats through services like Netflix. However, Sony is developing Blu–Ray discs with a capacity of 1000GB – something that is completely unnecessary for video, but could make their use in enterprise storage even more viable.