American software vendor SolarWinds has announced an update to the Orion platform, aimed at simplifying troubleshooting of networking equipment and IT systems.
The PerfStack dashboard can help identify, isolate, and solve performance issues using the information collected by Orion-based products.
The announcement was made at the Cisco Live show in Berlin.
"We're excited to show Cisco Live attendees how PerfStack, along with our complete portfolio of market-leading products, can help them break down the walls between functional roles, eliminate finger pointing, and solve performance problems faster," said Christoph Pfister, executive vice president for products at SolarWinds.
Seeing is believing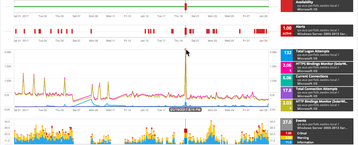 SolarWinds is a San Francisco-based software developer specializing in tools that measure performance of infrastructure and applications.
The Orion platform serves as a foundation for most SolarWinds products, including its Network Performance Monitor, Server & Application Monitor, Virtualization Manager and Storage Resource Monitor.
With PerfStack, customers can build their own dashboards to track important metrics, by simply drag-and-dropping real-time and historical data gathered by Orion.
The tool collates information produced by routers, switches and storage arrays, as well as software applications and virtual machines. It can then visualize the relationship between 'suspect elements'.
For example, PerfStack enables administrators to combine network latency and bandwidth data from Network Performance Monitor with LUN IOPS data from Storage Resource Monitor into a single chart to troubleshoot iSCSI performance issues.
An early version of PerfStack is available immediately, when downloading any of SolarWinds products in 'release candidate' stage. A full release is expected in the nearest future.