IBM subsidiary SoftLayer has opened its second data center in Sao Paulo, Brazil – its third in Latin America.
The new facility will ensure low latency for local businesses and satisfy their data residency requirements. Just like the rest of the SoftLayer network, the data center in Sao Paulo will offer bare metal and virtual servers, storage, security services, and networking.
It is part of an ongoing global expansion that will see the company build a total of 15 new data centers.
You can't escape SoftLayer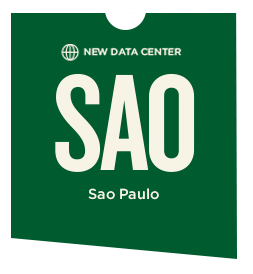 In 2014, IBM announced plans to spend $1.2 billion on infrastructure in order to support the growth of SoftLayer – a cloud provider it acquired for $2 billion in 2013. The additional facilities will bring the total number IBM's cloud data centers to more than 40.
According to a report by Infiniti Research published in June 2014, adoption of cloud technologies across Latin America is expected to grow 28 percent by 2018. Around the same time, Frost & Sullivan estimated that the worth of the Brazilian cloud computing market alone will grow from $474.8 million in 2014 to $1.11 billion in 2017.
IBM is poised to take advantage of the trend: its first facility in Sao Paulo already counts Audio Monitor, Unicamp, Finep, Pague Menos Drugstore, WTW Media Group and Seekr among its customers.
"More than performance and quality, one of the great advantages of IBM is the service, promptness and assistance in defining the best solution for our needs, extremely difficult to find in other solutions of Cloud Computing," said Mauricio Brentano, CTO of Seekr.
The new facility in Jundiaí, São Paulo, offers enough space to host 9,000 servers, supported by 2.8MW of power. It was built to Tier III specifications and follows the modular 'pod' design perfected by SoftLayer over the past decade.
Customers can back up their data to any SoftLayer data center in the world using the company's private network, which doesn't charge for bandwidth.
IBM's global expansion has already seen new facilities open in Paris, London, Melbourne, Toronto, Hong Kong, Sydney, Montreal and Mexico City. Earlier this month, the company launched its first SoftLayer data centre in Japan, where it says its cloud business grew 600 percent in 2014. There are confirmed plans for at least one more site in Chennai, India.