International data center operator ServerFarm has signed up for the Climate Neutral Data Center Pact, promising to be climate neutral by 2030.
The operator has two data centers in Europe, along with six in the US, and one in Israel. It has also joined the Dutch Data Center Association.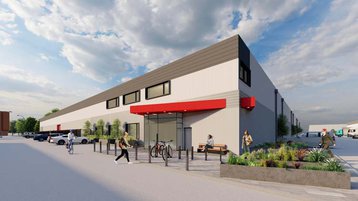 Reusing buildings
Although the Pact covers European providers, membership will affect its worldwide operations, Jochem Steman, ServerFarm's vice president of colocation Europe, told DCD: "We intend to participate in the CNDCP with a view to implementing best practice globally."
Alongside the commitment to reduce operating emissions, Serverfarm says its policy is to adopt and modernize existing buildings, thereby reducing the embodied emissions in the concrete and other construction materials. The company also has a Data Center Management as a Service (DMaaS) offering InCommand, which manages enterprise workloads efficiently.
ServerFarm paid for an independent analysis of the lifecycle costs of its Chicago data center by an architect, which showed it saved 88 percent of the emissions from construction by resuing a building.
It has also launched a white paper on the concept of Data Center Infrastructure Design Debt - a measure of the environmental costs embodied in physical data centers, that can be reduced by proper modernization.
"Data centers constructed in the 1990s and early 2000s are entering their third and even fourth decade of operation," says the ServerFarm white paper. "As they age, data centers become less efficient. These inefficiencies can accumulate. They build up infrastructure debt."
Speaking on the Pact and the Dutch Data Center Association, Steman said: "With data centers in Amsterdam and London and executives across EMEA, ServerFarm's footprint in Europe is growing, yet we're dedicated to keeping our carbon footprint to a minimum. These two coalitions are powerful forces for the greater good in the European data center industry, and we're proud to work with other operators and trade associations to reel in carbon and energy usage. We've long believed that tackling data center sustainability must be a collaborative effort."