Republican Senator Marsha Blackburn this week criticized Apple for its partnership with local Chinese state-owned data center operators, as she sought support for the Open App Markets Act.
But the act would not stop Apple or other companies from working with the Chinese state, and instead stops app stores with more than 50 million users from locking people into one payment system, or putting restrictions on companies that are cheaper on other platforms, or use in-app purchases with different payment systems.
The bill, spearheaded by Blackburn and Senator Richard Blumenthal (D), passed the Senate Judiciary Committee last week ahead of a wider Senate vote.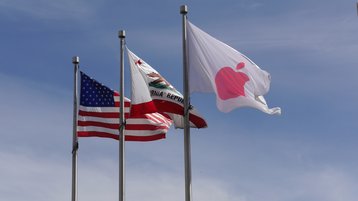 In a Senate speech about the Act, Blackburn used the Judiciary Committee vote to pivot to an extended philippic against China.
"[The bill] is bipartisan, and it is a good, solid, strong first step," she said. "But, remember, our tradition of maintaining competitive marketplaces isn't the only thing at stake here... right at this very moment, Big Tech is facilitating crimes against humanity in China."
Blackburn said that human rights groups, dissidents, and activists were supporting the act because it struck a blow against corporate gatekeeping.
She entered into the Senate Record letters from such groups, including one signed by dozens of activists and groups, among them the Uyghur Human Rights Project, The Hong Kong Watch, and Citizen Power Initiatives for China.
The letter states: "While Apple claims to be a defender of human rights in the West, Apple has deliberately placed Chinese citizen's lives in the hands of the Chinese government for profit, knowing the grave consequences.
"As the Congressional-Executive Commission on China and others have warned, Apple hosts the private data of its Chinese users in data centers controlled by the Chinese government without the safeguards that would prevent spying, including weakening its access controls and encryption. As a result, Chinese citizens are unable to access independent news, practice their faith, or express themselves freely without real fear of the brutal repression of the state."
In China, foreign cloud and data center companies have to operate with a local partner that owns the hardware and land, so Apple is not unique in this matter.
But Apple, which has aggressively marketed its pro-privacy policies in the West, has also made specific encryption decisions to appease the Chinese state.
Outside of China, Apple stores encryption keys on hardware security modules developed by Thales. Chinese officials did not allow the device to be used, so a new one was developed by Apple to be used at the data center, the New York Times revealed last year.
The digital keys it uses to unlock the data are stored in the same facilities as that data. This was expressly requested by Chinese officials after Apple tried to keep the keys in the US.
Apple partnered with state-owned Guizhou-Cloud Big Data Industry (GCBD) to run its data centers in the country.
As Apple does not control the Chinese data centers, it does not have to turn data over to Chinese law enforcement, which would be illegal under US laws. Instead, Chinese authorities can ask GCBD for Apple user data.
Last year, Apple shot back at the report, which was based on conversations with 17 current and former Apple employees, internal documents, new court filings, and previously known details about Apple's Chinese operations.
"We retain control of the encryption keys for our users' data, and every new data center we build affords us the opportunity to use Apple's most cutting-edge hardware and security technologies to protect those keys," the company said in a statement.
The company has also lobbied against the Open App Markets Act. In a letter to Judiciary Committee leaders obtained by CNBC, Apple senior director of government affairs in the Americas Timothy Powderly said: "We are deeply concerned that the legislation, unless amended, would make it easier for big social media platforms to avoid the pro-consumer practices of Apple's App Store, and allow them to continue business as usual.
"It does so by mandating that Apple allow the sideloading of apps and app stores that need not comply with the App Store's pro-consumer privacy protections."
In recent months, the company has also lobbied against the Uyghur Forced Labor Prevention Act, which requires US firms to guarantee they do not use imprisoned or coerced workers from the predominantly Muslim region of Xinjiang.