Storage vendor Seagate has launched its first hard drive that increases capacity by filling the enclosure with helium instead of air.
The 10TB Enterprise Capacity HDD could restore the balance on the hard drive market: HGST, a brand of Seagate's main competitor Western Digital, got an early lead on helium technology after shipping its 6TB Ultrastar He6 drive at the end of 2013.
Seagate's new drives are aimed at web-scale data centers, and their first users include Chinese infrastructure giants Alibaba and Huawei.
"Built on our years of research and development of sealed-drive technology, our new helium-based enterprise drive is designed precisely to help data-centric organizations worldwide solve the needs of their growing storage business," said Mark Re, senior vice president and CTO at Seagate.
If you can't beat them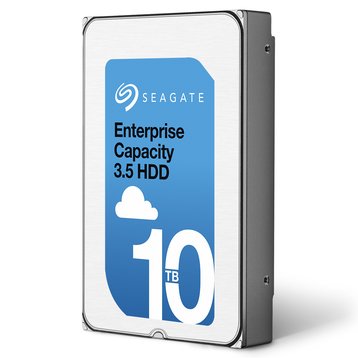 Helium is an inert gas that offers less resistance than air: this simple property enables helium-filled hard drives to have reduced power requirements, weight, disk vibration, mechanical wear and drive temperature. The main challenge with this approach is keeping the gas sealed within the enclosure for the lifetime of the drive.
Seagate previously promised to deliver a 10TB HDD before the end of 2015, but the product has been delayed. Until very recently, it wasn't clear whether the company was ever going to use helium – it was always more vocal about technologies like Shingle Magnetic Recording (SMR) and Heat-Assisted Magnetic Recording (HAMR).
Turns out Seagate was quietly preparing its own take on Western Digital's Helioseal technology.
The 10TB Enterprise Capacity HDD comes in a standard 3.5-inch form-factor, with seven platters and 14 heads. It is currently not clear whether it uses SMR, which can boost capacity at the expense of write speed. The device is available in both 6Gb/s SATA and 12Gb/s SAS versions.
Using helium has enabled Seagate to increase not just capacity, but reliability too. The 10TB version has been rated at 2.5 million hours Mean Time Between Failures (MTBF), considerably more than the rating for its traditional drives - around 2 million hours MFTB.
"With the amount of data today growing at an increasingly rapid rate, we are always on the lookout for storage solutions that offer better performance with lower overhead," said Fan Ruiqi, president of storage products at Huawei.
"The new Enterprise Capacity 3.5 HDD from Seagate helps us meet these demands by offering incredible capacity with improvements in power and weight allowing us to drastically reduce our costs."
Western Digital started shipping a very similar drive, 10TB Ultrastar He10, at the end of December. Seagate claims that its HDD offers lower weight and lower power consumption. However, if it turns out that it uses SMR, the Western Digital drive would actually beat 10TB Enterprise Capacity HDD on performance characteristics.
We have contacted Seagate for clarification.