Schneider Electric has announced an energy storage system based on Lithium-ion batteries that could solve the issues associated with direct consumption of electricity from renewable sources.
The EcoBlade will enable data centers to store excess energy during the periods of peak production and use it during the periods of peak consumption, or in the event of a power failure.
The same technology is being offered to industrial, commercial and even domestic property owners.
"We are living a very exciting time where new technologies enable us to completely rethink the way we deal with energy in a far more sustainable and efficient manner," said Jean-Pascal Tricoire, chairman and CEO at Schneider Electric.
The EcoBlade is relying on the same principles as Tesla Motors' PowerWall, announced earlier this year.
Batteries included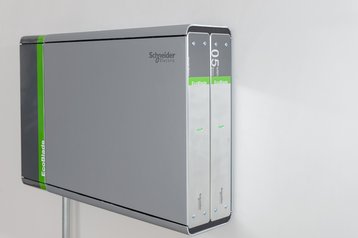 EcoBlade will enable anyone to store large amounts of energy in a compact, easily scalable package. Each 30-inch blade weighs around 25 kg and contains a smart, networked battery module. It can be used on its own, or connected into a larger system.
The product is integrated into the wider Schneider Electric ecosystem, relying in particular on Struxureware - a popular suite of data center management and building operation tools.
EcoBlade would be especially helpful in environments that make direct use of renewable energy, since the amount of electricity produced by solar panels, wind turbines and hydroelectric dams is far from consistent, and can vary depending on the time of day or weather conditions.
Introducing large batteries into the power chain would ensure that the facility always has energy to spare. It would also enable data centers to sell spare energy back to the grid. And finally, it could reduce the industry's reliance on generators and other back-up solutions.
EcoBlade is expected to become available sometime in 2016. The price target has been set at less than US$500 per kWh.