Solid state memory specialist SanDisk has launched InfiniFlash – its first entry into the all-flash storage array market. The appliance is set to disrupt the industry by offering 512TB of raw flash capacity in a 3U enclosure – making it the densest storage system on the market today.
Economies of scale allow SanDisk to take the price of InfiniFlash below $2 per GB – making it a viable alternative to hard drives as a primary storage medium. These arrays are aimed at hypersale infrastructure deployments and available immediately in all geographic markets.
More silicon
The need for higher storage performance has pushed data center owners to deploy ever increasing amounts of flash memory. The benefits of flash are manifold: it is much faster than hard disk drives, more reliable, requires less power and cooling. Just one obstacle remained on its path towards becoming a primary storage medium - the price.
Several storage vendors, including Pure Storage and Dell, have previously claimed they can offer 'flash at the price of disk' – the holy grail of storage technology, traditionally considered to be around $3 per GB. However such numbers are usually achieved using compression and deduplication algorithms, and the results vary depending on the type of data and software used.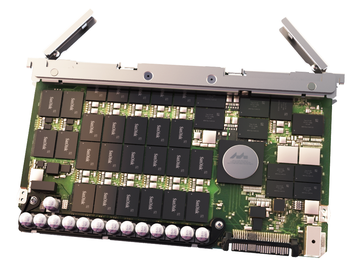 "We knew that we had to do something fundamentally different, that we had to create a disruptive product that looked like nothing that came before," said SanDisk vice president and general manager Ravi Swaminathan in a press conference on Tuesday.
After two years in development, SanDisk has launched InfiniFlash – an appliance which takes the price of raw flash below $2 per GB, with the ability to apply compression and deduplication techniques to stretch the capacity even further.
InfiniFlash ships as a modular 3U box filled with 64 hot-swappable cartridges containing 8TB of flash each, plus four cooling modules and two power supplies.
Initially, SanDisk offers three InfiniFlash models: IF100 is a simple building block that delivers capacity, but lacks some of the advanced features – which can be provided by third-party software.
IF500 has been pre-integrated with the open source Ceph platform – one of the most popular storage backends for OpenStack. Meanwhile IF 700 takes advantage of the ION Accelerator software stack developed by Fusion-io, the company acquired by SanDisk last year for $1.1 billion.
The IF100 is aimed primarily at SanDisk's OEM partners, while IF500 and IF700 are more expensive, but will enjoy enhanced enterprise-level support.
All three are currently based on cheaper MLC flash, but SanDisk plans to add SLC and other NAND flavors in the nearest future. We are also promised a full Petabyte InfiniFlash model before the end of the year.
SanDisk doesn't see its latest endeavor as just another storage array - instead, InfiniFlash is being positioned as a new type of data center appliance that fills the gap between HDDs and "conventional" all-flash arrays – IDC refers to it as "Big Data Flash" [but we doubt the name will stick].
There is no information on pricing, but if claims of $2 per GB are true, it would make a first generation InfiniFlash array worth at least $1 million.
NAND chip manufacturers are a part of a very exclusive club: besides SanDisk, it includes Samsung, Toshiba, Micron and SK Hynix. No one else makes flash at scale, so any innovation is likely to come out of these five companies. It's good to know that at least some of them are not resting on their laurels.