Samsung's IT services unit Samsung SDS has opened a new data center in South Korea as part of plans to expand its cloud offering.
The IT service unit of Samsung Group intends to make Samsung Cloud Platform (SCP) available to all customers.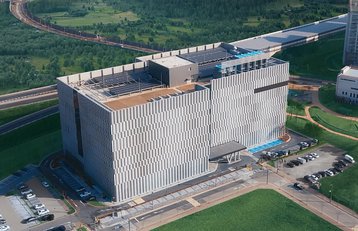 As part of this move, the company recently announced that it had launched its third data center in South Korea in December 2022. Located in Dongtan, Gyeonggi Province, the company said the facility is the country's first high-performance computing (HPC) dedicated data center, which focuses on AI and big data analysis operations.
The data center has been named Dongtan IDC, covers six floors with four server rooms, and has a PUE of 1.12 enabled by its use of natural air cooling. The data center uses the outside wind and colder climate instead of air-conditioning and is hoping to save 21,443 tons of greenhouse gas emissions by 2035.
The main server room on the first floor converts 22,900 volts of electricity from the state-run utility Korea Electric Power Corp (KEPCO) into 6,600 volts that can then be used by the data center. The company has not shared the IT capacity of its new facility, nor its others.
According to the company, Dongtan is the only data center in South Korea to be mutually backed up between three data centers, providing it with additional redundancy.
With this greater capacity, Samsung SDS will expand its offering. Hwang Sung-woo, CEO of Samsung SDS, said: "Samsung SDS possesses the technological capabilities to provide cloud infrastructure as a Cloud Service Provider (CSP), cloud management as a Managed Service Provider, and software-as-a-service (SaaS) together, which is unique in Korea. We will provide customized cloud services that customers need to support their digital business innovation."
The SaaS services include Brity RPA automation, Brity Works co-work, EMM mobile security, Nexprime SCM supply chain management, and Nexprime HCM human resource management.
Founded as Samsung Data Systems in 1985, Samsung SDS is an IT service provider, offering consulting, technical, and outsourcing services. The company also does a lot of R&D in technologies including AI, Blockchain, and the IoT.
On its website, the company says it operates 16 data centers globally. In South Korea, the company operates data centers in Chuncheon, Sangam, and Suwon.
Samsung SDS first announced its plans to expand its cloud services to unaffiliated enterprise customers in September 2019, along with its launch of the company's Chuncheon data center. It is unclear what happened between then and now to prevent this, though the pandemic significantly denting the company's sales and operating profit likely didn't help.
Naver close to launching new data center
Samsung's local cloud competitor, Naver Corporation, also announced a new data center recently.
It will be the company's second in the country, and known GAK Sejong. The company's first data center, GAK Chuncheon, took on an essential role during the fire in SK C&C Co.'s Pangyo data center.
Naver had over 20,000 rental servers running in SK's data center, but the Chuncheon facility ensured that the company had a working backup system.
The new GAK Sejong is expected to be operational by the second half of 2023, and will integrate technologies including robots, AI, and cloud services. It will be built on 293,697 sqm of land, making it around six times the size of GAK Chuncheon, and will offer 270MW of IT capacity.