Electronics giant Samsung has become the first silicon vendor to start production of second generation DDR4 RAM chips, built on the 10nm process.
The new memory circuits are smaller and more energy-efficient than previous generation products, and can operate at 3,600 Mbps per pin – as opposed to 3,200 Mbps for their predecessors.
Samsung says that its recent manufacturing advances will help accelerate the introduction of even faster memory types, including DDR5 and GDDR6.
Improving memory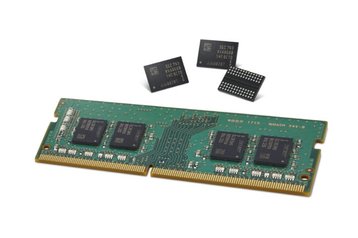 According to Samsung, thanks to a proprietary circuit design, the new chips offer around 10 percent more performance and consume 15 percent less power than its previous generation memory products. They are also faster to manufacture – Samsung claims 30 percent productivity gain over the prior generation.
The chips feature a "newly devised data sensing system" that enables a more accurate determination of the data stored in each memory cell.
They also include an 'air spacer' around bit lines to decrease parasitic capacitance – an effect that drains part of the cell's electric charge and slows down the reading process.
The new 8Gb circuits will be used to make memory in various shapes and sizes, for consumer devices as well as high performance server equipment.
"By developing innovative technologies in DRAM circuit design and process, we have broken through what has been a major barrier for DRAM scalability," said Gyoyoung Jin, president of Memory Business at Samsung Electronics.
"Through a rapid ramp-up of the 2nd-generation 10nm-class DRAM, we will expand our overall 10nm-class DRAM production more aggressively, in order to accommodate strong market demand and continue to strengthen our business competitiveness."
Samsung is currently battling it out with Intel for the position of the world's top chipmaker by sales, and is expected to ship $65.5 billion worth of silicon before the end of the year.