Sabey Data Centers has acquired 60 acres of land in Umatilla, Oregon.
The company expects to break ground in Q1 2025, and plans to build a 100MW+ data center campus. Update: Sabey has shifted its predicted development date to 2024.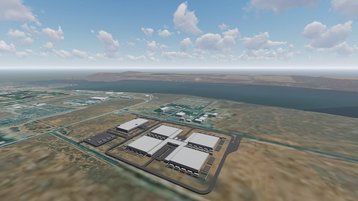 The 700,000 square foot (65,000 sq m) SDC Umatilla campus will offer multiple diverse connectivity solutions.
With Oregon's grid featuring a 40 percent renewable utility power fuel mix and a target of reaching 100 percent by 2040, Sabey said that it will procure/invest in carbon free energy "in time" to meet its own net-zero target by 2029.
"Sabey continues its commitment to build cutting-edge, super-efficient data centers in markets like Umatilla that move us toward our goal to operate with net-zero carbon emission by 2029," Rob Rockwood, president of Sabey Data Centers, said.
"Our data centers combine that level of sustainability with low Total Cost of Ownership (TCO) throughout the data center lifecycle, reliability and connectivity. And as we have in every one of our markets, we will run our campuses with men and women from the local community who share our vision to build opportunity along with the world's best data centers."
Dave Stockdale, City Manager of Umatilla, added: "We are excited to welcome Sabey into our community and delighted to support this endeavor in Umatilla based on their track record of providing advanced data center services through a highly sustainable operations model. Sabey's commitment to support some of our major projects is a testimony to their reputation as an integrated community partner, and we look forward to having our uniquely qualified local workforce join their team of professionals."
Earlier this week, Sabey announced a partnership with JetCool Technologies to test its liquid cooling tech. JetCool uses microjets to target chip hotspots.
More in Construction & Site Selection