German infrastructure giant Rittal has launched a range of LED lights designed specifically for network and server enclosures.
The light is the smallest of the company's industrial LED fixtures. It outputs 600 lumens, as much as a 40W incandescent bulb, meeting the standard requirement for data center racks.
Let there be light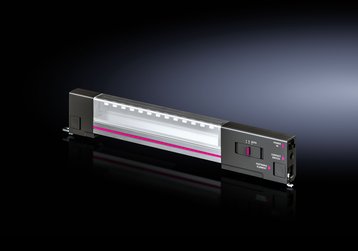 Lighting is an often neglected data center component, and yet according to a whitepaper by CommScope published in 2014, it comprises 3 to 5 percent of typical data center power consumption, having a direct effect on Power Usage Effectiveness (PUE). The type of light is also taken into account for some environmental design certification, such as LEED in the US.
Rittal's compact LED system features magnetic attachments and can be mounted both vertically and horizontally.
The transparent plastic cover incorporates Fresnel lenses - the company says this ensures cabinets are fully lit from top to bottom, while avoiding light being scattered to the exterior.
The lights are available with Plug&Play cables, either with the EU flat-pin connector plug or the international IEC C18 connector, designed for a wide range of voltage (100 – 240 V AC, 50/60 Hz). As a result, the same light can be used worldwide, which, according to Rittal, reduces storage costs and makes product selection far easier.