US retailer Target is reportedly scaling back its use of Amazon Web Services in an effort to stop financing a company that wishes to replace it.
The move comes just days after Amazon finalized its purchase of Whole Foods, cementing its position in the physical retail space. Walmart, meanwhile, reportedly has told partners and suppliers to stop using AWS, at a time when it plans to invest heavily in Nvidia GPUs for its own data centers.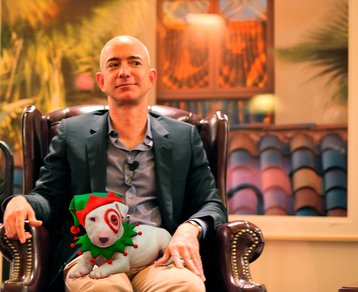 Fighting the goliath
CNBC spoke to multiple sources who confirmed Target's decision, with one source claiming that the company plans to aggressively move its e-commerce activities, mobile development and operations away from AWS, a process that is likely to continue into 2018.
Naturally, all the major cloud companies are thought to be competing for Target's business, which is already relying on multiple service providers. One source specifically noted Microsoft as a vendor targeting Target.
Fellow retail giant Walmart has also grown nervous about Amazon and its growing grip on the market. Not only does Amazon account for 43 percent of all online retail sales in the US (in 2016, according to Slice Intelligence), this week marked the company's first major push into the physical retail market.
While Amazon has previously dabbled with bookstores and is experimenting with 'Amazon Go,' a store where people can walk out without needing to go through checkout, Monday saw Amazon finalize its $13.7 billion purchase of Whole Foods. Upon taking over, Amazon immediately cut prices and made its Echo the 'Farm Fresh Pick of the Season.'
Walmart, known to have discouraged the use of AWS in the past, is thought to be beefing up its own data centers. According to a research note from Global Equities Research, the company will go "full steam" into deep neural networks using clusters of Nvidia GPUs.
Analyst Trip Chowdhry claimed Walmart is building a "GPU farm" that will be about a tenth of the size of AWS' own GPU cloud, but did not cite sources. Walmart became the second largest online retailer in the US after buying Jet.com last year for $3.3bn - with Jet.com primarily using Microsoft Azure.
Walmart has also made moves to challenge Amazon's Echo device, which allows users to buy products from its site using their voice. Last week, the largest grocery retailer in the US announced a partnership with Google. Starting with September, people will be able to use Google Home devices to order Walmart products, delivered by Google Express.
Google Express also delivers products from retailers like Target, PetSmart, Costco and Whole Foods, but it is unclear how long the latter will remain on the service.