Data center and medical property real estate investment trust Carter Validus Mission Critical REIT is exploring a sale, Reuters reports.
The whole portforlio could be worth more than $3.5 billion, but Carter Validus is considering two transactions, with its data center assets expected to bring in more than $1 billion.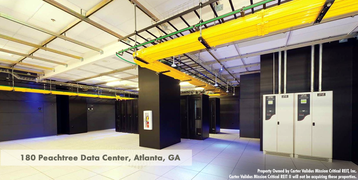 Any takers?
Since launching in 2010, the REIT has built a portfolio of 49 real estate investments, as of the end of September.
Its data centers, which were usually acquired fully occupied, include ones filled by IO in Arizona, Internap and Atos in Texas, and AT&T in California, Tennessee, and Wisconsin.
Carter Validus also owns Carter Validus Mission Critical REIT II, which has been buying data centers since 2014.
Nontraded REITs like Carter Validus use investors' money to purchase properties, and in return give regular cash payments and a larger capital return after a public listing or a sale.
Reuters' report comes at a time of increasing consolidation and acquisition in the data center market.
In just the last few months, Equinix has announced plans to pick up Verizon's data centers for $3.6 billion, Digital Bridge is reported to be eying a purchase of Vantage Data Centers for $1 billion - and in the meantime has acquired Databank for several hundred million - and CenturyLink has sold its data centers to a private consortium for $2.3bn.