Microsoft has announced it will enable the native deployment of Red Hat Enterprise Linux (RHEL) operating system on its Azure public cloud platform.
Under the terms of the partnership, Red Hat Cloud Access subscribers will also be able to easily extend their hybrid cloud deployments into Azure. Meanwhile existing Azure customers will get access to Red Had applications like the JBoss Web Server, Gluster Storage and OpenShift.
In the coming months, the partners plan to offer a new 'Red Hat On-Demand' service, with Microsoft offering complete RHEL images in the Azure Marketplace, with enterprise support provided by Red Hat.
If you can't beat them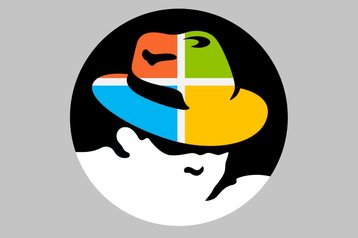 It might sound unusual, but the announcement means that Microsoft – a company that built its business on developing proprietary operating systems – will become a Red Hat Certified Cloud and Service Provider.
Of course, RHEL is not the first Linux distribution available on Azure – the cloud platform officially supports Ubuntu, CentOS, CoreOS, Oracle Linux and both free and enterprise editions of SUSE.
However, Microsoft said that Red Hat's take on Linux will become the 'preferred' choice to run Linux workloads on the Azure cloud, and this partnership will offer support 'in an integrated way, unlike any previous partnership in the public cloud'.
The two companies will co-locate support teams on the same premises, although it's not clear whether under the roof of Microsoft or Red Hat.
Red Hat will also work on CloudForms interoperability with Azure and Microsoft System Center Virtual Machine Manager, offering its customers the ability to manage RHEL on both Hyper-V and Azure.
And finally, the two will cooperate on bringing the .NET framework to Linux – a move which was announced by Microsoft in April.
"With this partnership, we are expanding our commitment to offering unmatched choice and flexibility in the cloud today, meeting customers where they are so they can do more with their hybrid cloud deployments — all while fulfilling the rigorous security and scalability requirements that enterprises demand," said Scott Guthrie, EVP for Microsoft's Cloud and Enterprise division.