Raritan has announced new power management capabilities for its Intelligent Rack Transfer Switch. The new switch helps data centers keep equipment operating through power failures and provides information about energy usage and rack-equipment health.
The Intelligent Rack Transfer Switch – which uses a Raritan patented design for fast load transfers from one power source to another – now offers outlet-level metering and power switching. Raritan describes the switch as ideal for cloud computing infrastructures and data center racks filled with one-power-supply devices. The new switch is one of the fastest in the industry — twice as fast as standard automatic transfer switches — and claimed to be one of the most reliable.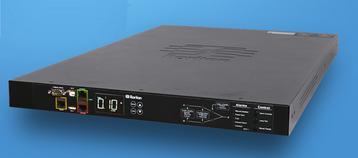 Monitor energy usage
The new transfer switch monitors power at the outlet-level, as well as the inlet-level. Used properly this will provide more detailed energy information for managing energy costs. The transfer switch's new secure switching capabilities enable power to a device to be turned on and off remotely – eliminating visits to the data center. For more visibility to the data center rack, Raritan says that many clients use DCIM software to analyze and monitor the power information gathered by the transfer switch, as well as the health of the power chain.
Before Raritan released its first intelligent rack transfer switch in 2014, there wasn't much choice. Automatic transfer switches (ATSs) were inexpensive but suffered from longer transfer times of 8 to 16ms. They also often failed as a result of electrical arcing problems which sometimes welded contacts together. Static transfer switches (STSs) offered fast transfers of 4 to 6ms but were far more expensive than ATSes, used far more energy, and produced heat that then had to be removed.
Hybrid system
David Wood, director of power business at Raritan said: "Raritan overcame these limitations with a new hybrid system that uses the best of both electromechanical relay and silicon-controlled rectifier technologies to deliver fast performance and better energy efficiency and reliability."
Available worldwide, the Raritan Intelligent Rack Transfer Switch offers a number of options and a range of voltage and plug types.
The switch comes with an intelligent network-ready controller with display, and with two USB-A and one USB-B ports to support Wi-Fi networking, webcams and cascading to share IP drops.
The switch's sensor ports support optional Raritan plug-and-play sensors for monitoring environmental conditions in the racks.
If you are interested in learning more watch our free webinar on "Designing Flexibility into your Data Center Power Infrastructure".