US cloud company Rackspace is to lay off around 10 percent of workforce.
The company said it was shedding around 700 hundred employees as part of a restructuring plan, and will use the money saved to reinvest and expand its product offerings in "fast-growing" areas of the business.
"On July 21, 2021, the company committed to an internal restructuring plan, which will drive a change in the types of and location of certain positions and is expected to result in the termination of approximately 10% of the Company's workforce," the company said in recent SEC filings.
"The rebalance in workforce is a component of a broader strategic review of the Company's operations that is intended to more effectively align the Company's resources with its business priorities in high growth areas," it said.
Rackspace said all affected staff have been notified, and will exit the company over the next 12 months. It added many of the roles will be backfilled at its offshore service centers.
The company expects to incur expenses of approximately $70 million to $80 million as a result, and claimed it will make $95 to $100 million in gross annual savings compared to current spending after the 'restructuring' is complete. It also said as a result it will reinvest the saved money into "fast-growing product and service offerings."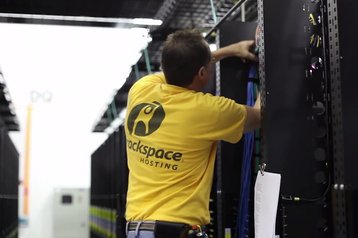 "These savings are expected to be used to fund approximately $65 to $70 million in new investments in fast-growing product and service offerings including cloud migration, Elastic Engineering, cloud native application development, Data/Artificial Intelligence/Machine Learning and security services," the company said in the filing.
Rackspace made no mention of the lay-offs in a press release announcing the 'new' investment, saying the money will be funded through 'cost savings from enhanced automation' and 'restructuring to realign resources from mature and declining areas of the market'. It said the funding will 'accelerate growth initiatives' while also providing the company with a more 'flexible and scalable expense structure'.
"The initiatives announced today will enable Rackspace Technology to take full advantage of current market trends, drive significant earnings leverage as revenue continues to grow, and compete even more effectively with other cloud service providers," Rackspace CEO Kevin Jones said in the press release. "In addition, we are more closely aligning our Rackers with next-generation service offerings that offer more compelling growth potential both for them and the company."
As a result, Rackspace adjusted its Q2 2021 revenue earnings forecast to $741-$744 million; GAAP net loss is expected to be in the range of $30-$50 million, while Non-GAAP Operating Profit is expected to be $117-$119 million.