IonQ, Rigetti Computing, D-Wave, and Quantum Computing Inc. are all publicly-listed quantum computing companies.
For their Q2 2023 earnings results, all four posted revenue growth alongside increased net losses.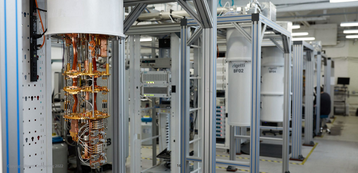 IonQ: Revenue growth continues, but so do losses
IonQ recognized revenue of $5.5 million for the second quarter, 111 percent up compared to $2.6m in the prior year period. Net loss was $43.7m and adjusted EBITDA loss was $19.4m for the second quarter
IonQ posted first-quarter revenues of $4.3m, net loss was $27.3m, and adjusted EBITDA loss was $15.9m for the first quarter.
IonQ achieved $28m in new bookings for the second quarter, and $32.2m year-to-date.
"This was another landmark quarter for IonQ, most notably with a record-setting $28m in bookings, bringing the total to over $32m in the first half," said Peter Chapman, President and CEO of IonQ. "We are now well on our way to our revised, higher bookings expectations of $49m to $56m for the year. We are also within striking range of our goal of $100m in cumulative bookings within the first three years of IonQ's commercialization, starting in 2021."
"Our impressive second quarter results come on the heels of us achieving our 2023 technical target of 29 algorithmic qubits seven months early. As our path to AQ 64 and quantum advantage comes into clearer focus, we have seen both public and private institutions investing not just in our current Forte platform, but in IonQ's technical roadmap. Our track record of success is beginning to speak for itself in the public markets, and we are relentlessly focused on bringing broad quantum advantage to all our customers."
The company has more than $500m in cash and equivalents.
Rigetti: Sells a quantum computer to a national lab
Rigetti posted revenues of $3.3 million for the quarter. Net loss for the three months was $17m.
Rigetti saw total revenues for Q1 2023 of $2.2m, and a net loss of $23.4m.
The company recently completed its first QPU sale to an unnamed national lab. Rigetti delivered a 9-qubit QPU and associated hardware to the lab.
Rigetti this month also launched its new 84-qubit Ankaa-1 System chip for external partners. Quantum software firm Riverlane is the first partner to use the new chip.
"After having launched the Ankaa-1 system internally, we are excited to have our longtime partner, Riverlane, as the first external partner using the system to work on improving error correction techniques on our new architecture," said Dr. Subodh Kulkarni, Rigetti CEO. "We also look forward to making Ankaa-2, our most innovative system to date, available to the general public in Q4 of this year."
Current cash and equivalents totaled $105m, with the company expecting to have $65-75m on hand by the end of 2023.
The company recently signed a deal to work with Abu-Dhabi-based ADIA Lab to design, build, execute, and optimize a quantum computing solution intended to address the probability distribution classification problem, a quantitative finance challenge.
In the earnings call, Kulkarni said of the QPU sale price: "For customers who have dilution refrigerators in their position, the price for a 9-qubit QPU is going to be under a million dollars. If they want to buy the whole system from us, including the dilution refrigerator, obviously the price point will be higher, roughly in the $22.5m in the range for the 9-qubit system, but we are primarily focused on customers who already have a DR and are interested in just buying the QPU from us.
"We are very, very excited to see the interest we saw from the first sale we did with the national lab and the pipeline that seems to be coming along," he added. "There are many customers who are interested in having an on-premise QPU for various reasons, security, trying to see how the hybrid climate works in their environment, and so on."
D-Wave: Revenue grows slightly, losses widen slightly
D-Wave's revenue for the second quarter of fiscal 2023 was $1.7 million, an increase of $336,000, or 25 percent, from Q2 2022.
Net loss for the second quarter of fiscal 2023 was $25.9m, compared with a net loss of $13.3m in Q2 2022.
Adjusted EBITDA for the second quarter of fiscal 2023 was negative $14.9m, compared with a negative $11.3 million in the fiscal 2022 second quarter.
D-Wave revenue for the first quarter of fiscal 2023 was $1.6m, net loss for the quarter was $24.6m, and adjusted EBITDA for the first quarter of fiscal 2023 was a loss of $16.9m.
Bookings for the second quarter of fiscal 2023 were $2.5m, an increase of $1.5m on the same quarter last year.
"Our second quarter results reflect, we believe, growing enterprise commitment to and investment in practical quantum computing solutions that can address their complex operational challenges today. Our triple-digit increases in bookings and average deal size on a year-over-year basis are evidence, in our opinion, of forward-looking organizations prioritizing quantum as part of their modern tech infrastructure," said Dr. Alan Baratz, CEO of D-Wave.
During the earnings call, Baratz said the company closed a number of new customers including global advertising and marketing firm IPG, technology company Unisys, and construction company VINCI Energies.
"We have now successfully fabricated a 1,200-qubit prototype processor in our new high-coherence fabrication stack. Advantage2 is expected to ultimately feature over 7,000 qubits, 20-way connectivity, and significantly higher coherence. From a software perspective, we continue to make enhancements to Leap, our real-time quantum cloud service," he added.
Quantum Computing Inc.: Launches an Edge device for AI
For Quantum Computing Inc., second quarter 2023 revenues totaled approximately $112,000, compared to $65,000 in the second quarter of 2022 and $121,000 for the first quarter of 2023.  
The company reported a net loss of $4.6 million for the second quarter of 2023, compared to a net loss of $5.1m for the same period of the previous year.
"The conclusion of the second quarter 2023 marks the one-year anniversary of our merger with QPhoton. In one year, we have laid the foundation for our core technology, designed advanced quantum photonic chips to miniaturize key product components, and have begun commercialization with the release of certain first-to-market, photonic-based, quantum-enabled products and services," said Robert Liscouski, co-founder, CEO & chairman of QCi.
In preparation for its entry into quantum chip manufacturing, the Company placed deposits totaling approximately $1.3m to secure long-lead equipment for its planned fabrication facility in Arizona where it will produce Lithium Niobate optical chips for quantum information processing and other single photon detection and sensing applications.
QCi has begun onboarding third party users to its Dirac-1 and Dirac-2 Entropy Quantum Computers. This quarter also saw QCi launch Reservoir Computer (RC), a type of machine learning Edge device that is photonic-inspired, FPGA-based, and optimized for recurrent neural network applications.